Greg Abbott: Carlisle United expectations are higher
Last updated on .From the section Football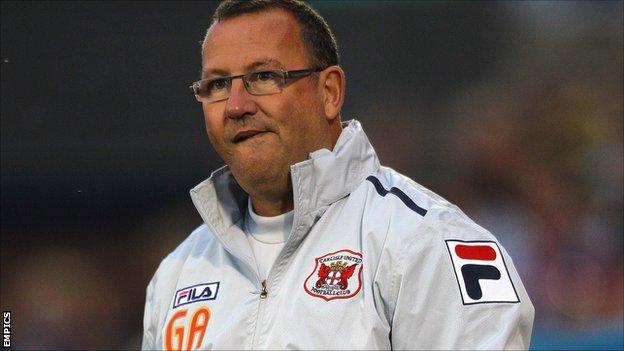 Carlisle United manager Greg Abbott has said the expectations at Brunton Park are higher in comparison to their League One rivals.
The Cumbrians are 14th in League One, but the two Wembley appearances and an unsuccessful promotion push last term has added to supporter frustrations.
"Maybe stuff we have had over the last three years is coming back to hurt us a bit," Abbott told BBC Radio Cumbria.
"The expectation is ahead of what it should be at the moment."
Abbott continued: "We are actually talking about a team that is under-performing.
"There is a manager in the league [Dean Smith] on exactly the same points as us, who has just been rewarded for his success and given a
"It just shows you how much progress we have actually made if people are grumbling when we are sitting 14th with 19 points, the same as Walsall."
Meanwhile, Abbott says has helped rebuild confidence within the Carlisle squad.
The Cumbrians were 4-2 winners to progress to round two, in a game described pre-match by Abbott as the biggest of the season so far.
"People talk about this being an FA Cup final, this was our FA Cup final," he said.
"They have given a positive performance with some edgy performances.
"I am not going to let too many people get right into this dressing room because it does affect them and it does affect everybody's mindset.
"The players have come through it and to be fair give them a little bit of credit."