Hereford chairman David Keyte is disappointed at Bulls' Cup crowd
Last updated on .From the section Football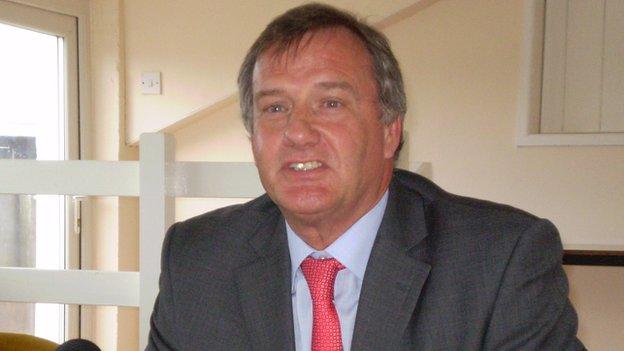 Hereford chairman David Keyte admitted he was disappointed at his club's attendance for Saturday's FA Cup tie.
Of the 3,251 who turned up for the 3-1 first round win over Graham Turner's Shrewsbury Town, 900 were away fans.
Compared to this term's average league gate of 1,793, that means just over 500 home fans returned to Edgar Street.
"The crowd was disappointing. With the TV money, each club's probably cleared about £20,000 and we were looking for a little bit more," Keyte told BBC Sport.
"There is also the £18,000 prize money for winning the tie.
"But it's difficult financial times. And we clearly know we have to win some supporters back.
"Those that got to the game on Saturday went home with a smile on their face for the first time in a while after a good performance from the young team our manager Martin Foyle has put together."
But, at a time when Hereford are struggling to pay their weekly wage bill and have warned they are close to administration, the club's appeal to the local community to fill the stadium only got a limited response.
Although the Bulls are £38,000 better off, thanks to that combination of prize money, gate money and TV money (ITV screened Saturday's 3-1 victory), they remain in serious financial trouble.
And, with their average home league attendance half the size it was just five years ago, they are now even more reliant on dreams of landing big name third round opposition - if they can get through their second round tie at another of their neighbours Cheltenham on 1 December.
"It's another intriguing local derby," Keyte told BBC Hereford & Worcester. "We'd prefer to have been at home, but the likelihood is we could take 600 or 700 and have another good share of the gate."
Keyte also admits that, if games like Saturday's cannot win back the fans, then they must find other ways of cutting costs.
"We're going to have start expecting to see gates of about 1,600 a week," he admitted.
"And we'll have to explore every avenue.
"We're going to have to cut back sufficiently to make up for the 600 or 700 who don't turn up for home matches, which is costing £6,000 or £7,000 a week.
"We've got various sections in the club that will have to be looked at, from the community trust, through the youth system to the first team."
But, asked whether that means going part time, Keyte insisted: "Not in the short term, no."