FA Cup: Gloucester City manager Mehew vexed by postponement
Last updated on .From the section Football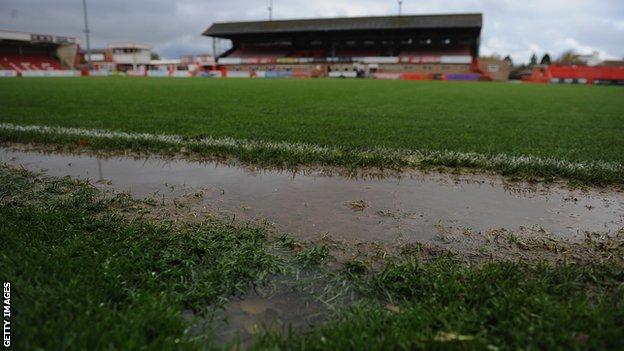 Gloucester City manager David Mehew has criticised the decision to postpone Sunday's FA Cup tie with Leyton Orient.
Referee Steve Rushton called the first-round match off at 12:00 GMT because of a waterlogged pitch at Whaddon Road - the Tigers' temporary home.
Mehew said he was left particularly frustrated because the decision was made before he arrived at the ground.
"Russell Slade [Orient boss] was there at 11:30 saying he wanted it off," Mehew told BBC Gloucestershire.
"That's four hours before the game, on a pitch that drains very well.
"I don't know Russell - and I've heard he's a really nice guy - but I'm the home manager and I haven't had any say.
"Naturally, we would have wanted the game on and I just can't understand why they didn't wait for 10 minutes. I was there at 12 minutes past 12.
"I'm not having a go at the ref - he knows he's the villain at the moment - but he could have waited. It's very frustrating for us."
The Blue Square Bet North club have been cursed by weather in the past after their Meadow Park home was destroyed by flooding in 2007.
They have been ground-sharing since then and are currently based at League Two Cheltenham Town.
Mehew confirmed the re-arranged Cup tie is set to take place on Wednesday, 14 November, and with the match taking place midweek, the club are preparing for a lower attendance and therefore a drop in much-needed revenue.
"If it turns out we are on the TV, which I'm told is a possibility, then we'll be looking at it in a different way," added Mehew.
"But I know every player was having an extra 10 or 15 people. That alone is double the normal crowd we get.
"It might sound like I'm ranting and raving, and I probably am, but this is how I feel.
"It always seems to happen to us. It's so frustrating."
The winner of the rearranged tie will face Alfreton in the next round.