Champions League: Barca ready to deliver double blow to Celtic
Last updated on .From the section Football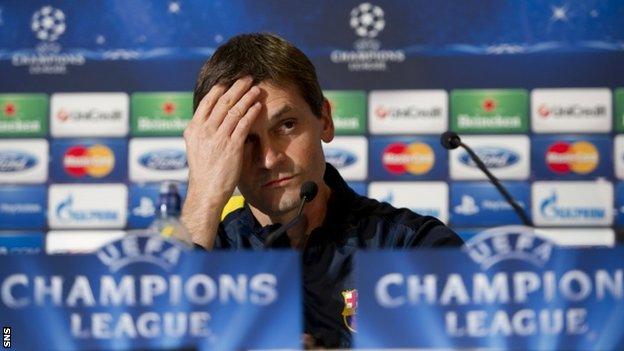 Tito Vilanova could pile on the Champions League agony on Celtic should his Barcelona side win their Champions League Group A game in Glasgow.
Coupled with a Benfica victory over Spartak Moscow, it will assure the Spanish of first place in the section.
That could lead to weaker Barca line-ups playing in their final two matches.
"If we qualify and are first in the group, we will be able to rest some of our players and use the youth team," said Barca coach Vilanova.
Barcelona have won their first three Group G fixtures and are five points ahead of Celtic, who are one point ahead of Spartak Moscow and three ahead of Benfica.
"But, do not worry," Vilanova told the Scottish media. "The teams that will play in the next games will always be top level because we have always been.
"The fact that some of those players don't play often doesn't mean they don't have an excellent level.
"But the most important thing is that we win tomorrow."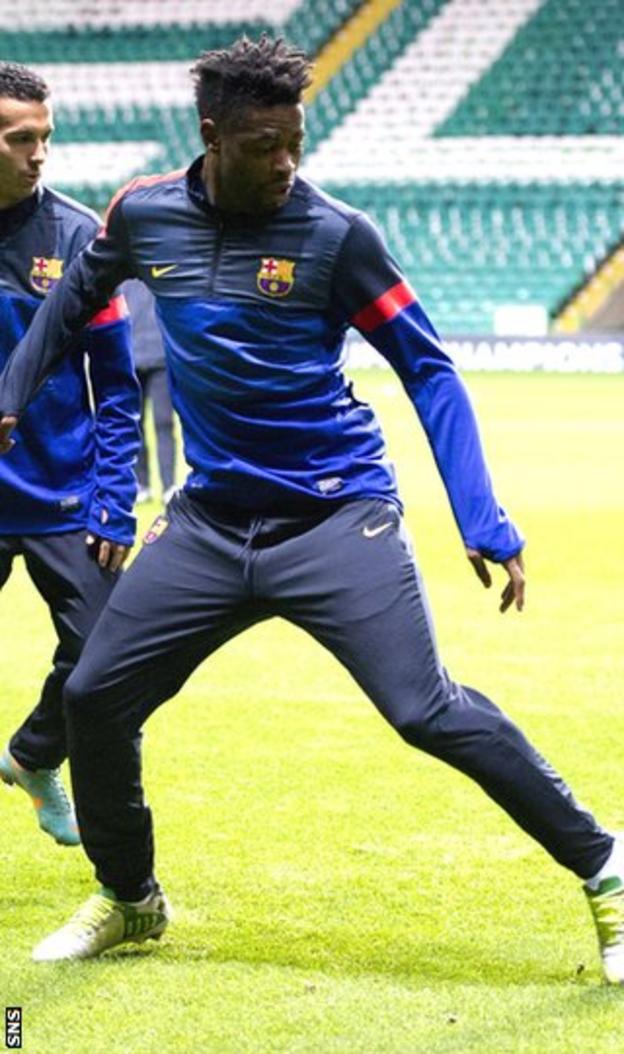 Vilanova refused to join those who criticised Celtic for their display in the Nou Camp last month, when saw Barca won 2-1 following a stoppage-time strike from Jordi Alba.
"I don't know how they will play in front of their own crowd, but they weren't that defensive really in the first game, they played really well," said the coach.
"They played as we expected them to play - they were good at set-pieces and quick counters.
"It was really hard for us to beat them and we could only do that in the last minute.
"When you play against Barcelona, they force you to defend close to your goal.
"But everyone is free to play the way we like and we were never comfortable or relaxed about it - we were always afraid of the counter-attack."
Barca midfielder Alex Song, who featured for Arsenal in a Champions League play-off clash at Celtic Park in 2009, was certainly confident of victory.
"I played here three years ago," he said. "I know the atmosphere is very good.
"But we are Barcelona and we are coming here to try to get a good result, to get three points.
"They just tried to defend at the Nou Camp, but we kept playing because Barcelona do that, no matter what the score is and, in the end, we won.
"We know it will not be easy tomorrow, but we will do our best to win because, if we do, we will go to 12 points."