Port Vale manager Micky Adams awaits Sheffield United return
Last updated on .From the section Football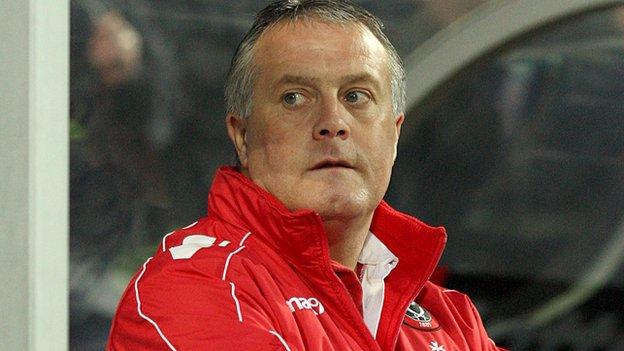 Port Vale boss Micky Adams is bracing himself to be the centre of attention after being handed an FA Cup second round trip to boyhood heroes Sheffield United, who sacked him 18 months ago.
Vale's 3-2 win at Forest Green on Saturday has set up the promotion-chasing Adams' return to Bramall Lane.
"I suppose a lot of attention will fall on me but I've got nothing to prove to anybody," Adams told BBC Radio Stoke.
"I still maintain I wasn't given long enough there, for whatever reason."
He added: "Regardless of the fact we went down, I still thought I was the man to take them back up.
"But I'd rather not go into the reasons. It's in the past now."
In any case, with his Vale side second in League Two, in the week of his 51st birthday, Adams is far happier to concentrate on the present.
"I've already told the lads to forget about the Cup as three of our next four games are at home," he added.
"We've got a great chance to cement where we are in the league before we even start thinking about Sheffield United.
"We're doing well, we're in the second round and I don't think we've been given the credit we deserve for going to a place like Forest Green on Saturday and scraping a result, when you consider some of the shocks that have happened over the weekend. Look at Colchester and Shrewsbury.
"We've got three defenders out and I'm far from happy at some of the things we did.
"At times, Forest Green looked the better team but it's not like we were playing a team 60 or 70 rungs below us. They're not that far away.
"We went down there and did a professional job and that has allowed us to now be talking about Sheffield United.
"It's got all the hallmarks of a cracking tie.
"If you're looking for the biggest game, you've got it.
"I just thought 'all those balls in that bag and they picked this one out'.
"I'm sure it will be a great atmosphere, a game we can look forward to and relish.
"We've got some players who shouldn't be playing at this level and they've now got an opportunity to play in a big Cup tie at a place like Bramall Lane."