Nations Cup: Ghana's Essien asks to be excused from campaign
By Michael Oti Adjei
BBC Sport, Accra
Last updated on .From the section Football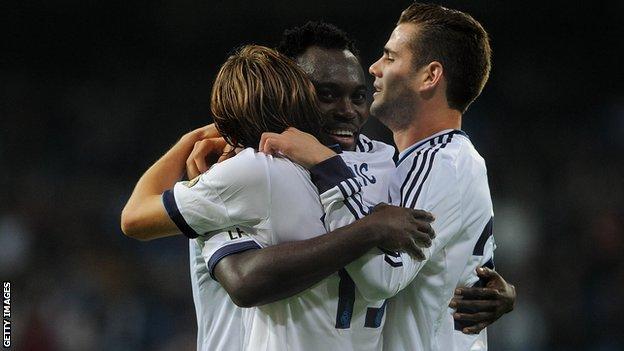 Michael Essien has asked to be excused from Ghana's 2013 Nations Cup campaign but says he is still committed to playing for the Black Stars.
Essien has told Ghana coach Kwesi Appiah he needs more time to settle in fully at Madrid before returning to international football.
"It is a situation I understand", Appiah told BBC Sport.
"Essien has made it clear to me he is still committed to playing for Ghana but he wants to sort out his club issues after moving from Chelsea to Real Madrid on loan. He is playing regularly now for Madrid and needs time to establish himself."
Appiah says Essien has not given a definite date for his return but he has indicated he will be available to play in the 2014 World Cup qualifiers, which resume for the Black Stars in March next year with a game at home against Sudan.
The 29-year-old's presence in the Real Madrid team in recent weeks - he scored his first goal for the club at the weekend - has led to increased calls for his return to international football.
But Appiah says given the player's history with injuries in recent years, Ghanaian football fans must respect Essien's wishes - even if that means he will not be part of the squad for next year's tournament in South Africa.
"He has suffered two major injuries playing for Ghana but at no point has he said he does not want to play again", Appiah added.
"In moments like this it is important that we respect what the players want and help them through their difficult times."
Essien has been highest profile Ghanaian footballer in recent years and was a dominant member of the Black Stars team that reached the country's first World Cup in 2006 and the semi-finals of the Nations Cup two years later on home soil.
But he has not played for the Black Stars since June 2011 against Congo in a 2012 Nations Cup qualifier in Kumasi.
The Black Stars went on to reach the finals of the Nations Cup and the quarter-finals of the World Cup in his absence but Appiah believes Essien still has a part to play for the team.
"Essien is not finished as a player and I still feel he has a lot to offer. At the right time he will be back to help us," Appiah said.
Ghana will kick off their 2013 Nations Cup campaign with a match against Democratic Republic of Congo on 20 January. The will also face Mail and Niger in Group B.