Scotland: Charlie Adam blames press for Craig Levein departure
Last updated on .From the section Football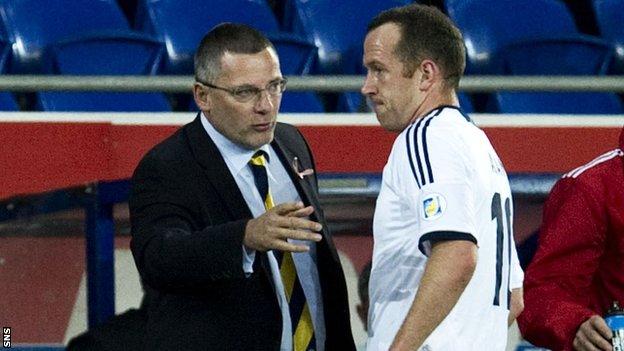 Scotland midfielder Charlie Adam has blamed the press for the departure of Craig Levein as national coach.
Levein lost his job because of a competitive record of three wins from 12 matches.
But Stoke midfielder Adam showed his support for his former boss on Twitter following training with his club.
"On my way back to hear Craig Levein has gone. Unbelievable. Can't believe the Scottish papers got what they wanted," he said.
Levein had a much-publicised dispute with Steven Fletcher that led to the striker being left out of the national squad for two years.
Fletcher, then with Wolves, made it known he did not wish to be considered after being overlooked for Euro 2012 qualifiers against the Czech Republic and Spain.
After the striker made a prolific start to the Premier League season following his summer move to Sunderland, Levein recalled Fletcher for the World Cup qualifying matches against Wales and Belgium.
The national boss said that he was able to do so because the player made it clear he wanted to return.
Despite the disagreement with Fletcher, Levein appeared to retain the backing of the Scotland squad.
Captain Darren Fletcher and a series of players spoke out in support of the manager following the defeat by Belgium that left the Scots bottom of World Cup qualifying Group A.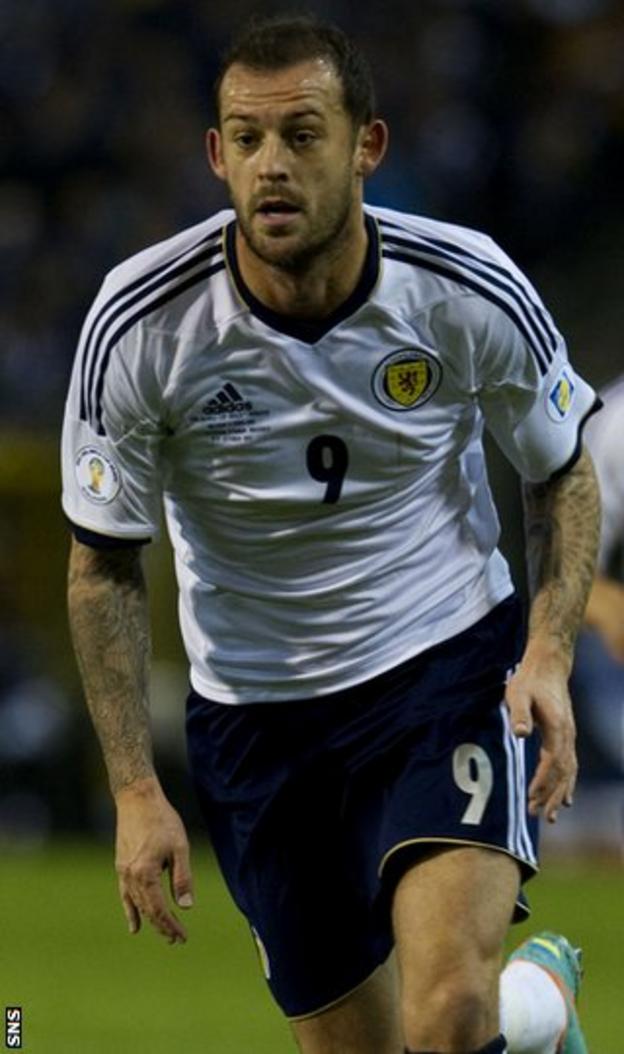 However, Adam's tweet led to immediate criticism from Scotland fans who blame the midfielder for Gareth Bale's late winner in the previous game in Wales.
Iain Emerson, editor of The Famous Tartan Army magazine, thought that the decision would be welcomed by most Scotland supporters judging from internet messageboards.
"I think it was inevitable," he told BBC Scotland. "It has been a long three weeks waiting for it.
"I think that the majority of Scotland fans are pretty pleased that this has been the outcome now.
"There haven't been too many people speaking up for Craig Levein, that's for sure.
"He's had an uphill struggle to get the fans onside since the Czech Republic game, when he didn't play a striker, and I think no-one's seen any progress.
"Then, with the Steven Fletcher affair and the first couple of home games at Hampden in this campaign, the fans lost faith in him once and for all."
Emerson thought that Scotland ought to be producing better results with their current squad.
"We are not expecting to be world beaters, but we do at least expect to have a go, especially at Hampden," he said.
"We don't have the worst players at the moment - they are all playing at the top level.
"Why are we not doing better? It must be down to the tactics of the manager."