Paul Pogba: Why Manchester United's loss is Juventus's gain
By James Horncastle
European football writer
Last updated on .From the section Football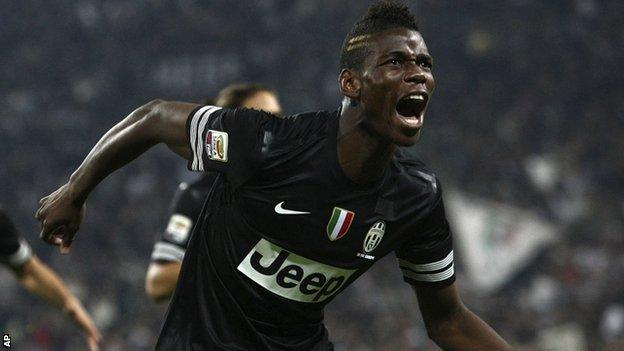 Gianluca Vialli was working as a pundit for Sky Italia when Paul Pogba settled a top-of-the-table clash between Juventus and Napoli in October with an exquisite volley from outside the area.
After the match, Vialli, a prolific striker in his day for Italy, Sampdoria, Juventus and Chelsea, smiled cheekily and asked the midfielder if he expected a text message of congratulation from his former manager at Manchester United, Sir Alex Ferguson.
Momentarily taken aback, Pogba raised his eyebrows and caused the experts in the studio to laugh when he replied: "Er, no, I don't think so."
His decision to reject a new deal and walk out on United at the end of his contract in the summer had not exactly gone down well at Old Trafford.
Speaking after the Frenchman's departure, Ferguson told MUTV: "I don't think he showed us any respect at all, so, to be honest, I'm quite happy."
It was clear, however, that Pogba's latest career choice had been a disappointment to Ferguson. The future of most players at Old Trafford is decided by the manager and no-one else. That was the case with Jaap Stam, David Beckham and Ruud van Nistelrooy.
Few choose to leave United of their own accord. Fewer still at as young an age as the 19-year-old Pogba.
He had joined the club in acrimonious circumstances in 2009, with the president of Le Havre, Jean-Pierre Louvel, claiming United had offered Pogba's parents financial inducements to sign for them.
The allegation was instantly denied by United and followed with the threat of legal action. "There has never ever been a case of us paying parents," Ferguson insisted. "It would be crazy to contemplate that because it would be the biggest headache you could ever have.
"We behave impeccably. What other clubs do is obviously subject to a lot of controversy and speculation, but I'm confident about our own club."
Fifa dismissed Le Havre's complaints, wholly accepting United's argument, and the transfer was cleared with immediate effect. Pogba was captain of France's Under-16s at the time and widely regarded as one of Europe's most promising midfielders.
He would later emerge, along with Ravel Morrison, another contemporary of his who has also since left the club for different reasons, as United's top academy prospect, winning the 2011 FA Youth Cup.
By the beginning of last season, Pogba, having risen through the ranks, was knocking at the first-team door and had Ferguson's attention.
"If we hold Paul Pogba back, what's going to happen?" said Ferguson. "We have to give him opportunities to see how he can do in the first team."
Pogba played just seven times last season, but not once was he included in the starting XI. His last appearance was as a substitute in United's 5-0 thrashing of Wolves on 18 March. An ankle ligament injury then ruled him out for the rest of the campaign.
Reflecting on his decision to leave United, Pogba revealed: "I'm impatient."
He told French newspaper L'Equipe: "There were things that you didn't hear about. I don't regret anything at all. I learned a lot there. But you had to be on the inside to understand my decision. It was the feeling that I had with [Ferguson]. The coach had faith in me, but didn't put me on. He said that I was too young. He said: 'Your time will come'. It didn't come."
Pogba went on to insist that he never meant any disrespect towards the United manager and said he was confused when Ferguson accused him of being disrespectful.
"I don't know why he said that," said Pogba. "A young 19-year-old says 'no' to Ferguson... perhaps he took it a little badly.
"But for me it doesn't change anything. It does not mean that I will speak ill of Manchester. I love this club. The players and the employees know I didn't lack respect for them."
To some, there was another reason behind Pogba's move, namely money. The four-year contract from Juventus worth a reported £830,000 a season had an understandable appeal to a teenager.
Ferguson alluded to this nearly a year ago when it first became apparent that Pogba might need convincing to stay.
"Matt Busby summed it up perfectly when he said that you don't need to chase money at a club like Manchester United," said Ferguson. "It will eventually find you. You will earn money and become rich."
Why else, other than for the money, would Pogba join Juventus, some argued, forgetting, of course, that they had just won the Scudetto by going the entire Serie A season undefeated, had qualified for the Champions League and were playing to sell-out crowds at a new stadium.
Others asked, with some justification, whether or not he would find it harder to impose himself in Turin, where the first choice midfield of Andrea Pirlo, Claudio Marchisio and Arturo Vidal is regarded as one of the best in Europe, than at United, where there remains a sense that a midfield all-rounder like him is just what the team is crying out for.
Yet, regardless of the gold highlights in his hair to distinguish him from Italy international Mario Balotelli - Pogba's Juventus team-mates greeted him at the club's Vinovo training ground with a shout of "Ah Balo!" - the former United youngster has struck everyone with his humility.
"My nickname in French is 'la Pioche'," Pogba told Italian sport magazine Hurra Juventus. "That's the kid who helps the others. I'm a good kid."
Opening up to L'Equipe, he added: "I am still young. I haven't played 60 top-flight matches. For the moment, I am nothing."
When Pogba signed for Juventus in the summer, many within the Italian media were disappointed that the club had not bought Marco Verratti, the teenage Italy international recognised as 'the new Pirlo' who would eventually leave Pescara for Paris Saint-Germain in a £10m deal.
There was anger that one of the country's best prospects had left and the champions were placing their trust in a foreigner. "Watch Pogba," advised Juve's general manager Beppe Marotta.
In a short space of time, Pogba has convinced everyone. Tall but good on the ball, drawing comparisons with Patrick Vieira and Marcel Desailly, he was described as being "on another level" by Juventus goalkeeper Gianluigi Buffon after one training session.
A man-of-the-match performance against Bologna last week, when he had a goal disallowed, saw a shot hit the post, started a move that led to his side's opener and then got a precious winner himself two minutes into injury time, left many in no doubt that Pogba is an exceptional talent.
"The problem isn't playing him. The problem is leaving him out," GB Olivero wrote in La Gazzetta dello Sport.
Juventus did just that for Saturday's Derby d'Italia with Inter. Pogba was left on the bench as Juve's 49-game unbeaten run in Serie A came to an end. "Inevitably now, you can't but think what Pogba might have been able to give," La Gazzetta dello Sport added.
Another chance should come when Juventus play Danish side FC Nordsjaelland in the Champions League on Wednesday. "I came here to play," Pogba explained. [Michel] Platini and [Zinedine] Zidane are Juve's history. I want to be the future."
After Giuseppe Rossi and Gerard Pique left Old Trafford for Villarreal and Barcelona respectively, he certainly gives the impression of being another star that United fans will unfortunately see shine elsewhere.
"Will Ferguson curse not having kept [Pogba] at Manchester?" asked La Gazzetta. "Very probably, yes."