MK Dons boss 'danced' after AFC Wimbledon draw
Last updated on .From the section Football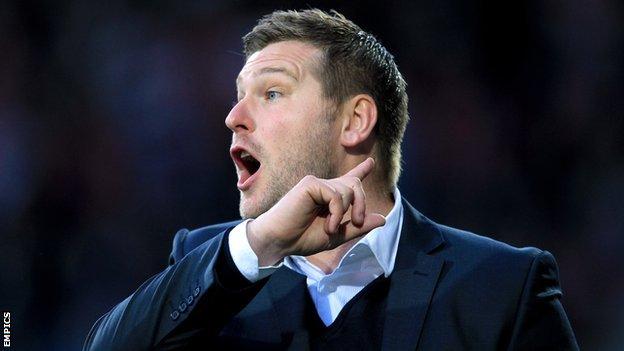 MK Dons boss Karl Robinson has said a potential against AFC Wimbledon had him dancing around his house.
The sides, who must still win second-round replays, have never met since AFC were set up in 2002, in response to Wimbledon FC moving to Milton Keynes.
"I was made up. I did a dance around the living room in excitement," Robinson told BBC Three Counties Radio.
"I'd love it to happen. It's one I want. It needs to happen."
He added: "But you have to take stock that there's an awful lot of water to pass under the bridge between now and then."
Wimbledon were moved to Milton Keynes - amid much controversy - in September 2003 following the purchase of the club by a consortium led by Pete Winkelman and were rebranded as MK Dons before the 2004-05 campaign.
Disenfranchised supporters of Wimbledon set up AFC in 2002 and the club have rapidly risen through the football pyramid and are now in League Two, one division below MK.
The debate over which team should possess the claim to Wimbledon's history rumbled on until 2006, when MK relinquished their connection to anything pre-2004.
Campaigns are still run by groups in south London attempting to persuade MK to drop the Dons portion of their title, a reference to the nickname of the original Wimbledon.
The clubs would have met in the second round two years ago - a prospect AFC described as "very painful for us" - but MK lost a replay to Stevenage on penalties.
"I believe in fate," said Robinson. "We played Stevenage two years ago. We're winning 1-0, a cross goes in. David Martin has it in his hands, knocks it off the back of somebody, drops the ball and they score.
"In the shoot-out Peter Leven, who had not missed a penalty in two years, misses the penalty to win it. And you think 'it wasn't meant to be'. But maybe now it is.
"But we've got a Cambridge City team who were magnificent on Friday and they've got York to contend with."
AFC Wimbledon fans have previously made it known that they never want to face MK Dons, but the club have confirmed that they will go ahead with the game if both teams win their replays.
A statement on the club website read: "AFC Wimbledon is a fan-owned club. We are proud of that fact and also that we returned to the Football League the proper way, rising through the football pyramid.
"While we would rather not have been drawn in this tie, like everything we do, we will approach this game in a professional manner if it happens.
"Therefore, we are committed to fulfilling this potential fixture on 1/2 December, in accordance with the rules of the competition."