Arsene Wenger says Arsenal players have lost belief
Last updated on .From the section Football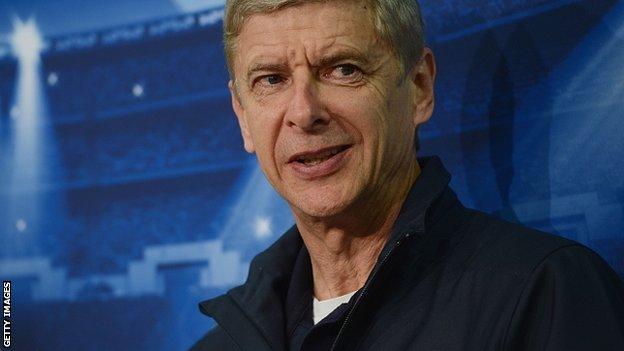 Arsenal manager Arsene Wenger believes his players have lost their belief even though his side still have "the best defence" in the Premier League.
And Schalke, who beat Arsenal in north London a fortnight ago, promise to be an even tougher prospect on home soil.
"At the moment they have forgotten how good they are," said Wenger.
"I believe that if you look at our overall performance we are indeed good, we are still the best defence in the league.
"If you look at the goals conceded, I believe at the moment we don't have to focus too much on that.
"Our game is about creating chances, about going forward, about having an offensive drive.
"What is most important is that we play again with our enthusiasm, desire to create chances and enjoy our game, more than about 'do we concede a goal or not'."
Arsenal have conceded the fewest goals in the Premier League this season (eight) and Wenger believes a lack of confidence is responsible for the downturn in form.
But the Frenchman hopes a victory over Schalke, who are top of Group B, will reignite their season.
"Firstly Schalke 04 is a very good team - you can see that in their league position [second behind Bayern Munich]," Wenger said.
"We did not have a lot of chances against them and we have got to switch better from defence to attack.
"Obviously it is disappointing for us when we don't have a lot of chances. Lately maybe we have been a little bit flat."
Meanwhile, Wenger revealed he upbraided Andre Santos after he swapped shirts with former Gunners team-mate Robin van Persie midway through Saturday's defeat by United.
Reports suggested Santos could be dropped for the tie in Gelsenkirchen but Wenger was keen to downplay the incident.
"I don't want to make too much of a big story of that," said Wenger.
"I believe that was not the right thing to do at all, but that is not an explanation for our bad performance on Saturday."