Hearts need help from fans, says John Robertson

By Brian McLauchlin
BBC Scotland
Last updated on .From the section Football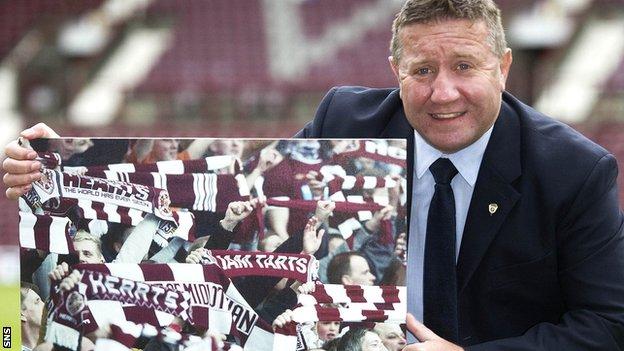 Former Hearts star John Robertson is urging fans to invest in the financially-stricken Tynecastle club.
Hearts hope to raise £1.79m with a share offer that will give supporters a 10% stake and Robertson has been enlisted to support the campaign.
"This is a call to arms," Robertson told BBC Scotland. "It's as simple and straightforward as that.
"We need all the Hearts fans to help, if they can. The club is in serious, serious trouble."
The Edinburgh club are currently disputing a demand from HMRC for £1.75m relating to a number of loan players that were at Hearts from 2005.
But director Sergej Fedotovas has insisted that none of the money raised by the share issue will be diverted.
And Robertson, who is the club's all-time leading goalscorer and had a brief spell as manager, is convinced the club are doing the right thing.
"I spoke to David Southern [managing director] and Sergej and I asked for three things: honesty, integrity and transparency," explained the 48-year-old.
"I asked a lot of questions about the state of the club and how they were going to go forward.
"The club is in a severe financial state.
"The wage level is coming down to a sustainable level but they need help to get to the end of the season.
"But it's not all about wages. It's about keeping the floodlights on, pitch maintenance, the plumbing and other staff salaries.
"Once we get there [the end of the season], the cuts that are in place will come in again and the club will be self-sustaining."
Hearts owner Vladimir Romanov is no longer bank rolling the club and wage delays have become common place at Tynecastle, the latest of which resulted in a player registration embargo.
"It's been a helluva seven years [since Romanov took over]," added Robertson. "Some of the players that have been here have been incredible.
"But the wages paid were unrealistic.
"Mr Romanov wanted to challenge the Old Firm and he threw a lot of money at it.
"Now he has cut his personal investment right back.
"He may have lost interest a little bit but he still wants the club to go forward in a strong position.
"This is a bit like market research. If the fans come forward and show an appetite to get involved then I'm sure the next step will be to release more shares, with the potential for others to get heavily involved in the club."