Peter Odemwingie: West Brom forward back on goal trail
Last updated on .From the section Football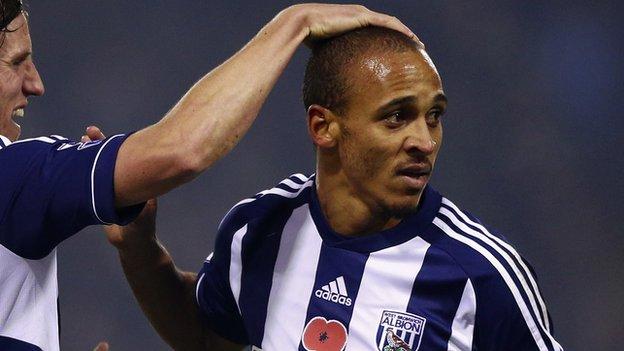 West Bromwich Albion striker Peter Odemwingie praised manager Steve Clarke's tactical nous after ending his Baggies goal drought with a timely brace to see off Southampton.
The 31-year-old Nigerian hit his first goals since the opening day of the season to beat the Premier League's bottom club on Monday night.
And Odemwingie admitted that Clarke had told him to operate further forward.
"The manager told me not to play always too safe," Odemwingie told BBC WM.
"He told me I'm doing OK on the wings defending, but that I had to go forward and offer more offensively.
"As he subbed me, he said 'see what it is when you go inside the box'.
"It was a wet night and very slippery and, with a young goalkeeper, I'd been told I need to keep shooting.
"The first was a strong shot. That's why, even with a deflection, it still beat the goalkeeper.
"And the second was a beautiful goal. A perfect cross from Shane Long.
"I knew he had quality. But, when I see the ball coming in, I just thought 'wow, I have to connect with that'.
"Fans in this country love goals from crosses and our supporters have now gone home with big smiles."
Odemwingie had not scored since getting Albion's second from the penalty spot in the 3-0 home win over Liverpool back in August, Clarke's first game in charge.
And he was thrilled with his first Baggies goal from open play since hitting the winner at Anfield in April.
"I'm a goalscorer, I'm a striker," he added. "I'm not satisifed if I'm not scoring goals.
"Without goals, no matter how good I play or contribute to a team's victory, I don't feel right."
He was also delighted to help his team back up to fifth in the top flight after the disappointment of successive luckless defeats by Manchester City and Newcastle United.
"It was very important after two disappointing games in a row," said Odemwingie.
"The manager said, something that stayed in my head throughout the game, that no good team loses three matches in a row. And you could see the concentration right to end.
"Hopefully we'll now grow in confidence from this.
"Expectations are now high here and so are the critics when things don't go well.
"But every season since I arrived we have got better, 11th then 10th. Now we are fifth in the table and that is totally deserved. The quality has improved, the expectation has improved and the reason is good performances."