Champions League: Celtic eye celebration against Barcelona
Last updated on .From the section Football
Celtic manager Neil Lennon hopes to give the Scottish champions' fans an anniversary present to remember when they entertain Barcelona.
The Glasgow club celebrated their 125th year the day before the Champions League game against the Group G leaders from Spain.
"It is a great occasion for the club today, our anniversary and something we are very proud of," Lennon said.
"I think this night will be a very special evening."
He explained: "One, being in the Champions League, two, playing against arguably the best team in the world and three, the anniversary of our club.
"It is a pivotal year for us, one of celebration."
Barcelona, who beat Celtic 2-1 at home to record their third consecutive Group G win, need only a point to clinch qualification for the next round.
"How do you solve a problem like Barcelona?" Lennon asked. "You have to play at your very best, you have to be fully concentrated with great intensity and sometimes even then that is not enough.
"But certainly, with a full house, I am sure the neutrals will enjoy the atmosphere and the energy that our supporters bring and it should be a great night for the club."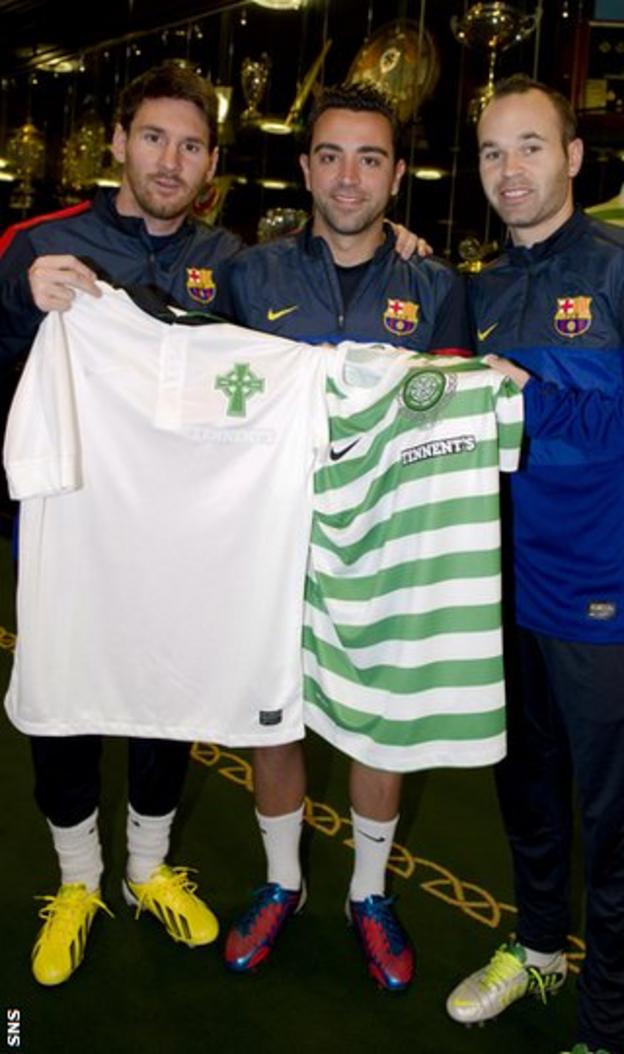 Lennon still appeared to be upset by the criticism of Celtic's tactics at the Nou Camp by the likes of former Barcelona star Bernd Schuster and Rayo Vallecano coach Paco Jemez.
"I have watched Barcelona on many occasions," said Lennon, who recalled the balance of possession in a game his side lost in stoppage time. "Even away from home, they have dominated games to the point where it is 70-30.
"In some games against Real Madrid and Chelsea, at times it was 80% in favour of Barcelona.
"We never set out to be defensive, but Barcelona force you to play that way.
"I was very proud of the performance and we almost came away with a superb result.
"We should have come out of the game with an enormous amount of credit."
Lennon does not subscribe to the theory that Celtic must concentrate on their games against Spartak Moscow, who have three points, and Benfica, who have one.
"If we can get something out of the game, it will give us a strong foothold in the group," he said.
"We can't think about what might happen in the Benfica versus Spartak game.
"We want a positive result, but we know it is going to be hugely difficult.
"We can't go gung-ho or leaves ourselves open or Barcelona will pick us off as they have done to many teams over the years.
"They have made the best start to their league campaign in their history and they have won all their Champions League games.
"So we are under no illusion as to how difficult is going to be."