Ferguson: Real Madrid, Barcelona & Dortmund are Man Utd rivals
Last updated on .From the section Football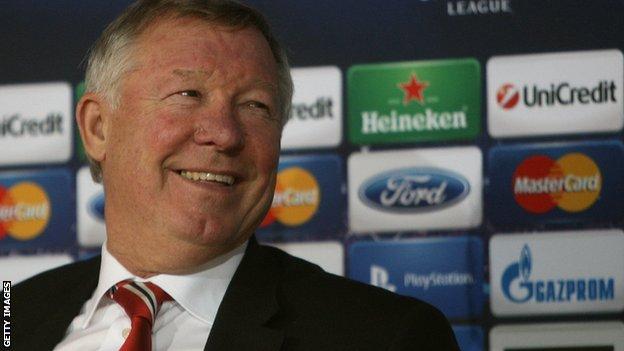 Sir Alex Ferguson has identified Real Madrid, Barcelona and Borussia Dortmund as the main threats to Manchester United in the Champions League.
United top Group H and will secure qualification to the last 16 if they beat Braga in Portugal on Wednesday.
Ferguson thinks the two Spanish giants and the German champions will pose the biggest danger in the knock-out phase.
"Those three teams will have outstanding chances and I hope we can join them," he said.
"I made a point about how strong the Champions League is and we will need to perform at a really high level to do that.
"You can't look past Real Madrid and Barcelona and I think Dortmund's campaign will be about the Champions League this year.
"If you look at their league form [they are fifth in the Bundesliga] it tells me they are preparing themselves to do well in the Champions League."
Ferguson's side have won all three of their Group H matches, scoring six goals in the process, while United are also the top scorers in the Premier League with 26 goals from 10 games.
"The area I'm most pleased about is the attacking part of my team - I think there are goals there," added Ferguson.
"Obviously we have some work to do on defending, but bit by bit, we are collecting a good group of outstanding young midfield players."
Braga are currently third in Group H on three points, while second-placed Cluj are on four with bottom side Galatasaray on one point.