Fifa world rankings: Scotland fall to lowest position in seven years
Last updated on .From the section Football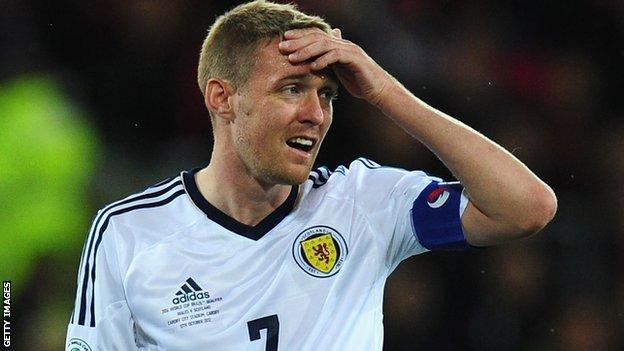 Managerless Scotland have dropped to their lowest position in the Fifa world rankings for more than seven years.
Scotland, who lost their World Cup qualifiers against Wales and Belgium in October, fell 14 spots to 70th, their worst ranking since being 74th in 2005.
England move down a place from fifth to sixth, the Republic of Ireland are 36th and Wales are 66th but Northern Ireland climb 17 positions to 100th place.
World champions Spain remain top, ahead of Germany, Argentina and Portugal.
Scotland's worst ever ranking came in March 2005 when they were in 88th position, but their latest drop puts them below Gabon (52nd), Cape Verde Islands (63rd) and Uzbekistan (69th).
England, ranked third in September, fall down to sixth following their 1-1 draw in Warsaw against Poland.
Wales are nine places lower than they were in October as their 2-1 win against Scotland was followed by a 2-0 defeat in Croatia.
FIFA WORLD RANKINGS
(as at 7 November, October's rankings in brackets)
1. Spain (1)

2. Germany (2)

3. Argentina (4)

4. Portugal (3)

5. Italy (8)

6. England (5)

7. Netherlands (6)

8. Colombia (9)

9. Russia (12)

10. Croatia (11)

11. Uruguay (7)

12. Greece (10)

13. Brazil (14)

14. Mexico (19)

15. Ivory Coast (16)

16. Switzerland (15)

17. Ecuador (20)

18. France (13)

19. Algeria (24)

20. Belgium (30)

36. Republic of Ireland (28)

66. Wales (57)

70. Scotland (56)

100. Northern Ireland (117)