Crystal Palace manager Ian Holloway targets promotion
Last updated on .From the section Football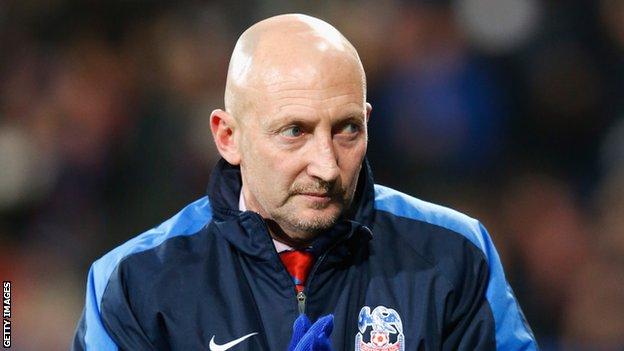 New Crystal Palace boss Ian Holloway thinks the club are capable of winning promotion to the Premier League.
He told BBC Radio 5 live: "I think they can [go up]. The players really want it and the set-up is working towards it.
"What I want to try and do is get Palace back to where I believe they deserve to be. When I was growing up as a kid it was the old First Division."
He added: "I want to give this club my energy and who knows what we can do?
"Everything is positive at the moment.
"But I've been in the game 17 years as a manager and it's not about getting carried away with it now."
Holloway, who joined the Selhurst Park side on a four-and-a-half year deal after leaving Blackpool, was impressed with what he saw from the dugout against Ipswich.
"I thought they played brilliantly on Saturday [beating Blackburn 2-0] and they probably surpassed that," he told BBC London 94.9.
"Ipswich were as good as they have been all season and my lot just ground them down."
After four games of the season Palace were second bottom in the Championship table.
But, after a 12-match unbeaten run, they now sit one point above Middlesbrough at the summit.
Holloway says he will not need to make too many changes to the side given the position and the form that they are in.
"We know this team is used to stretching people with their pace," he added.
"These boys have fantastic focus. In the meeting before the game their attention was spectacular.
"I want to try and get the wide men on the ball a little bit more. I don't need to do anything at the back.
"They are doing it better than any team of mine have ever done.
"It's a different style and a different way of doing it and we can try and continue that."