Leeds United: GFH Capital finalise takeover deal
Last updated on .From the section Football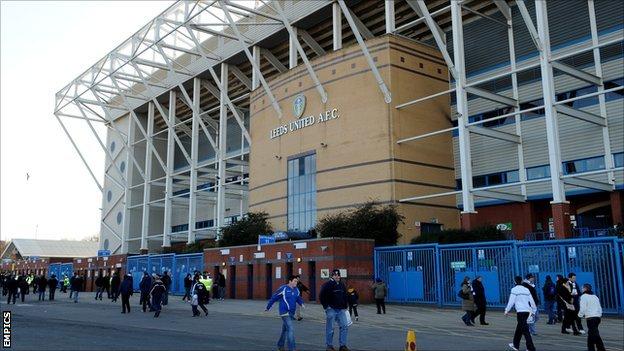 A Middle East-based private equity group has finalised a deal to take over Leeds United.
GFH Capital has now started a one-month transitional period and, following Football League approval, will become 100% shareholder of the club.
Current owner Ken Bates will remain as chairman until the end of the season, when he will become president.
Bates told the club website: "I can confirm we have completed all negotiations with GFH Capital."
Leeds have confirmed that the new owners have been financially supporting the club since entering an exclusivity period.
Last Thursday the two parties revealed an agreement had been reached and relevant documents were being passed to the Football League.
The takeover will end a protracted period of uncertainty that began at the end of May when the Elland Road club announced they were in investment talks.
Bates added: "Neil Warnock will continue as manager with more support than the present owners were able to give and we look forward to a smooth transition.
"One thing I can say that has benefited from the negotiations is that this six-month courtship has given GFH Capital the opportunity to see the strengths and weaknesses and what needs to be supported."
Hisham Alrayes, managing director of GFH Capital said: "We are delighted to be able to announce the signing of this historic deal with one of the best supported football clubs in England.
"This is a fantastic opportunity to put an amazing club back where it belongs as well as to help bridge national and international borders with football."
After Sunday's 1-0 defeat at Millwall, Leeds sit in 18th place in the second tier but are just eight points off the play-offs and face Chelsea in the Capital One Cup quarter-finals in December.