Kettering Town to play a 'home' league game at Corby
Last updated on .From the section National League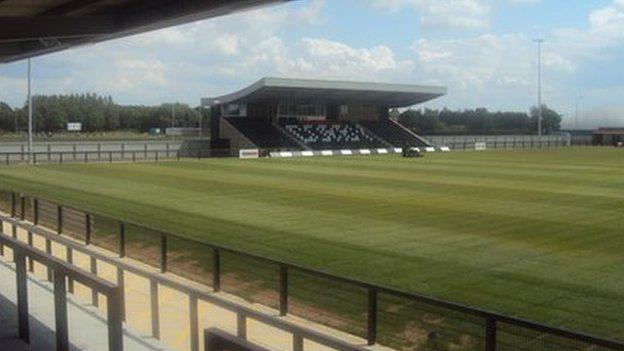 Kettering Town will return to action on Saturday by playing a home game against Redditch at Corby Town.
Corby chairman Kevin Ingram told BBC Radio Northampton: "There is no ground hire but they're going to pick up all the costs, just for one game.
"It's taken a massive amount of work, primarily between [former Kettering director] Ritchie Jeune and I."
Jeune was thought to have taken the role of Kettering Town chairman in August, after George Rolls was banned from football for five years, but the club's majority shareholder Imraan Ladak returned to take control soon after.
The Evo-Stik Southern Premier club have not played since a 7-0 defeat by Bashley last month, when they were only able to field 10 players.
Caretaker manager Alan Doyle has been re-assembling the squad after they were left with just three players under contract before the League lifted their transfer embargo on 23 October.
Ingram had previously indicated it was "highly unlikely" that his Blue Square Bet North club would agree to host the Redditch game for Kettering.
"We'd have to put some kind of bond in place, to begin with," he said on Monday. "We'd have to deal with insurances, we'd have to deal with the safety certificate and we'd have to get permission from the Borough Council, whose facility it is.
"In the short-term, I'd be willing to help Kettering out and not necessarily charge them an unreasonable amount of money.
"If it was a short-term agreement, I'd be willing to let them play there and just cover our costs. I would hope that if it was the other way around, they'd do the same for us."
However, Ingram hinted that he would be open to a long-term deal between the two clubs.
"Football is a business," he added. "If we could bring in some income by allowing another football team to play at our facilities, it wouldn't cause me a problem if Kettering came and played on our pitch for the next 10 or 20 years."