Matt Connolly expects Cardiff changes after Charlton capitulation
Last updated on .From the section Football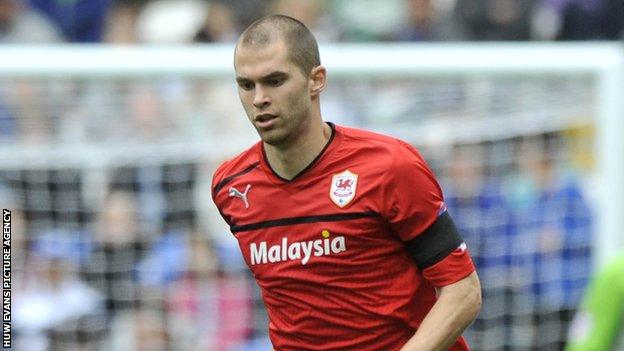 Defender Matt Connolly says no Cardiff City player's place is safe in the wake of the 5-4 defeat to Charlton.
Cardiff lost top spot in the Championship after the latest away defeat on Tuesday, despite leading 2-0.
The club have won all seven league games at home but have lost five of their eight matches on the road.
"If he [manager Malky Mackay] wants to change it that's up to the manger. None of us can complain after Charlton," he said.
"But we have played pretty consistently this season. So it's just one game."
The Charlton capitulation was Cardiff's third straight away defeat after reversals at Nottingham Forest and Bolton Wanderers, which have seen them slip from top to third place.
Connolly, a £500,000 summer signing from QPR, admitted he found Charlton's five-goal comeback hard to explain.
"It's a pitch. It's 11 v 11. It shouldn't be a mentality that you go away and it's difficult," he said.
"It is hard to come to places like [Charlton] but we have won games and been in winning positions away from home so I don't see why we have chucked it away.
"We gave away bad goals at bad times. Goals change games, especially when you give them away before half-time.
"If we had seen that out the game it would have been totally different I think."
Cardiff made a controversial kit change before the start of the season, switching from their traditional blue shirts to red as their home colour.
Their two wins away from home have come while wearing red, while all the defeats have been in blue.
They wore black when they failed to protect a two-goal lead at Crystal Palace earlier in the season.
"It's a poor mentality to have when you are 2-0 up," added Connolly. "It's happened before and we need to learn from it.
"We didn't perform very well. It was similar to Palace really when we were 2-0 up and threw away that game. We have let in goals away from home quite a lot this season. I wouldn't blame the back four it's the whole team defending."
But Connolly is hoping the side can regain their form with two home matches against Hull City (10 November) and Middlesbrough (November 17).
"When we have lost previously this season we have bounced back and won games," he insisted.