Is the Premier League table set in stone after 10 games?
By David Ornstein
BBC Sport
Last updated on .From the section Football317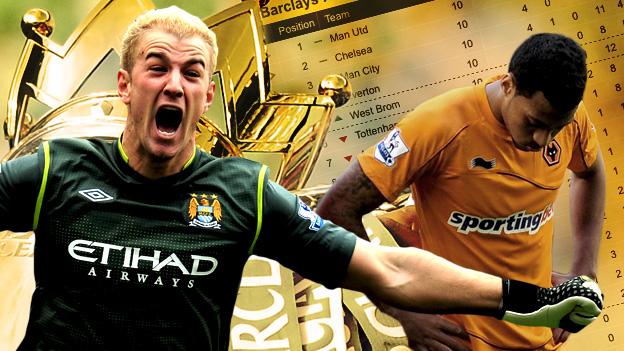 Champions elect, mid-table mediocrity, relegation fodder and favourites for the sack - with the Premier League season less than three months old, should any firm conclusions be drawn?
Certainly several top-flight managers believe this is the first stage at which their teams can be held to account.
Speaking after Everton's victory over Manchester United on the opening weekend, David Moyes was asked to assess his side's early form and prospects for the campaign.
"I think you can probably only judge that after 10 games," he replied.
Among those to echo the Scot's sentiments were Arsenal counterpart Arsene Wenger and Newcastle boss Alan Pardew.
So, here we are are - 10 games in, keen to understand what that means for our teams and eager to discover where they go from here.
"The league table very rarely alters much between this point and May," former England manager Graham Taylor told BBC Sport.
"There are perhaps one or two sides who make a dramatic movement one way or the other, but that's about it."
Ex-Tottenham boss David Pleat added: "After a quarter of the season you do get an indication of what's to come, a pattern emerges.
"The two Manchester clubs are up there with Chelsea, and it could well be that this year an outsider comes into the top four.
"Certainly Arsenal won't be far away - although they have been a little shaky recently - and nor will Tottenham, Newcastle and Everton.
"The only thing I worry about is that if two or three clubs get isolated we could see a top and bottom form very early. I hope Reading, QPR and Southampton can make a real fight of it at the bottom."
Given Manchester United have won 12 Premier League titles despite occupying top spot after 10 games only three times in 20 years, it could be argued that positions count for little at this stage.
Yet on the three occasions Sir Alex Ferguson's men did lead the way - as they do now - they went on to triumph.
"That's an ominous sign for their rivals," said Taylor. "United don't normally start well, they push on later. They still have that strong period to come, but are already top."
A 13th United success would leave their rivals scrapping for the three remaining Champions League spots.
Current incumbents Chelsea, Manchester City and Everton may take comfort from the knowledge that, over the last 10 years, 68% of teams in the top four after 10 games have finished there.
Further down the ladder, though, it is managerial futures and top-flight survival that are of far more pressing concern.
transfer window, but not all of them will be happy with their returns so far.
With Southampton bottom of the league, to be the first managerial casualty, while is also under pressure.
At least one boss has left his post around the 10-game mark (plus or minus three games) in nine of the last 10 Premier League seasons, peaking with four in 2007-08.
"Although people quite rightly get criticised for dismissing managers too early, when a third of the season is up it's recognised that this could be the time to make a change," revealed Taylor, who has worked on the board at Watford and Scunthorpe.
Pleat explained: "It's an assessment the board make fuelled by the supporters' feelings and maybe hyped up by the media too.
"They look not only at the first 10 games, but also at the second half of the previous season. If there was obvious progress at the end of the previous season, maybe there's more patience. But if there wasn't then that is often taken into account around November time."
In the last decade 53% of sides in the drop zone after 10 games avoided relegation and 50% of those who were bottom survived.
That said, the only club to have conceded as many goals at this stage as Southampton's 28 (Barnsley in 1997-98) were relegated.
"Although Southampton have spent money on new players, dealing with consecutive promotions is incredibly difficult," said Taylor.
"For two years those players didn't know what losing was; suddenly they're experiencing that and it's hard to handle. If Nigel gets them to safety, it will rank alongside his two straight promotions."
Taylor identifies fifth-placed West Brom and new manager Steve Clarke as the surprise package, reserving additional praise for fellow small-spenders Fulham (eighth) and Wigan (13th).
Everton have enjoyed an uncharacteristically strong start and many want to see if they can combine that with a traditionally strong finish.
This time last year Wigan were bottom, but they rallied to 15th.
"Struggling teams can change their manager or wait for the transfer window to change their players; Wigan did neither," said Pleat.
"Roberto Martinez instead changed his system of play and it paid off brilliantly. That should serve as a template for others."
We may only be just over a quarter of the way through a 38-match season, but the 10-game juncture may be more important than we thought.