Celtic's win over Barcelona is their best ever, says Henrik Larsson
Last updated on .From the section Football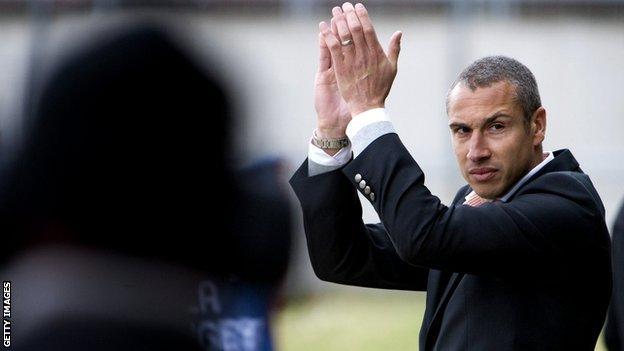 Celtic legend Henrik Larsson has hailed the club's Champions League victory over Barcelona as their best European result at Celtic Park.
Larsson, who scored twice for Celtic in the 2004 Uefa Cup final, said the win surpassed anything he had played in.
"It has to be the best one, without a doubt. Beating Barcelona, with the team they have now, beats everything I've been involved in," he said.
"It just shows that anything is possible in football."
And the Swede, who won the 2006 Champions League with Barcelona, added: "The way they played, and also away from home, against the best team in the world, was fantastic, the game plan was excellent."
Larsson also said he was unsurprised by his former team-mate Neil Lennon's growing reputation as Celtic manager, describing him as being "always a leader when he played".
"He always had a good contribution to the team, so, for me, it's not a surprise," he said.
"He knows what he's talking about, he knows what he's doing.
"The game plan he had away from home was almost perfect. That just shows he knows about the game."
Larsson also revealed that he could feel the atmosphere inside Celtic Park despite only watching the match on television.
"The way you heard the fans through the television, everyone is raving about the atmosphere, so they should be pleased about that.
"I've experienced that atmosphere first-hand myself."
And Larsson thinks the victory could spark the momentum to take Celtic to the latter stages of the competition.
He continued: "It was a vital win in a very important situation. Now it gives them the chance to go on at least to the next stage.
"This shows everybody at Celtic that anything is possible, and if you bring that spirit and that atmosphere to every game, who knows where it could end up?
"Can you make the same performance in the next game? Then you might be there already."
Larsson also praised the performance of youngster Tony Watt, who scored Celtic's second goal against the Catalans.
"He knows he can play, and he knows he can score against any team now, so nothing should be impossible for him," he said of the 18-year-old.
"It's good that he got the opportunity to get on the pitch and it's something he needs to take with him every time he's on the pitch - that he can score against the best."
Larsson also indicated he would be leaving his job as manager of Swedish side Landskrona within a year, but laughed off any prospect of him being linked with the vacant Scotland manager's position.
"It probably won't be me," he said.