Swansea's Michu answers Real Oviedo plea for survival
Last updated on .From the section Football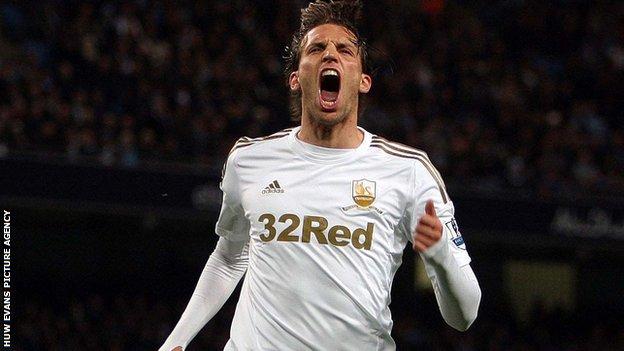 Swansea City's Michu has become a shareholder of his home-town club Real Oviedo in Spain in a bid to keep them in business.
Oviedo is one of Spain's most historic clubs but reportedly need to raise 2m euros within a fortnight to survive.
The Swans' top scorer has been joined by two other former Oviedo stars, Chelsea's Juan Mata and Arsenal's Santi Cazorla, as shareholders.
"We just wanted to try to help save the club we all played for," said Michu.
"Myself, Mata and Cazorla have all bought shares, but it would be wrong of me to say how much.''
Oviedo, who play in Spain's third tier Segunda B, revealed it may be forced to shut its doors following financial hardship and the economic crisis in Spain.
The former La Liga outfit is trying to raise much-needed funds and capital to stay in business and survive.
Michu started his career at Real Oviedo, his local club in northern Spain, at five years old and stayed there until he was 21, playing over 100 games, but money problems saw them slip down the leagues.
He left to join Celta Vigo in 2007 but says his bond with his hometown club is still strong.
"The economy in Spain is very bad and the club needs around two million euros to survive," said Michu, who joined Swansea just £2m from Rayo Vallecano in July.
"A lot of people have bought shares and hopefully it will be enough by the closing date of November 17.
"It's my local club, a club I love, so I hope it will be enough."
Michu believes Swansea fans will understand his desire to keep his former club afloat after the supporters of the Welsh club did the same a decade ago.
"Swansea fans should know how much it means to me and the Oviedo supporters," said Michu.
"I remember reading up on the history of Swansea when I first arrived here; I remember reading how the Swansea supporters bought shares in this club when it was in trouble 10 years ago - and again many years before that.
"And look at the club now; in the Premier League and winning at places like Anfield. Hopefully this SOS can have a similar reaction.''