Paolo Di Canio 'unhappy' with Swindon chairman comments
Last updated on .From the section Football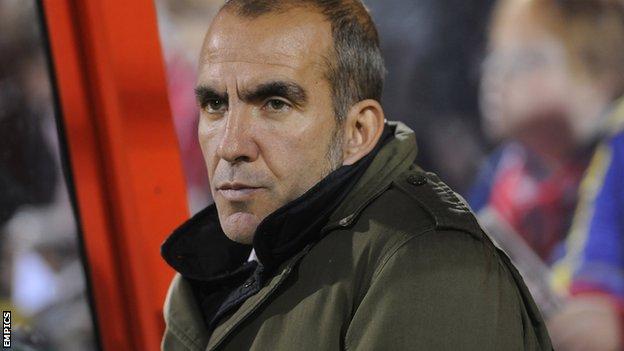 Swindon manager Paolo Di Canio is unhappy with remarks made by the club's new chairman Sir William Patey regarding their transfer policy.
Di Canio believes Patey does not have the knowledge to make such comments.
"It's clear he doesn't know what's happened here in the last 18 months," the Italian told BBC Wiltshire.
"Before speaking the people have to have knowledge of what we have done in the last few months and then maybe they can say something.
"He has said a few things that didn't make me happy."
Patey, who replaced Jeremy Wray on the Swindon board in October, confirmed before Tuesday's 0-0 with Sheffield United that Di Canio would be given funds to bring in loan players.
But the former British diplomat was quick to add that any new additions should be screened more thoroughly to stop injured players joining the club, a situation which arose with the arrival of Giles Coke from Sheffield Wednesday.
Midfielder Coke, 26, signed for Town in September on a four-month loan but made only five appearances before returning to his parent club with a foot problem.
Di Canio disputed Patey's suggestion, saying: "It's far from the truth when someone is talking about being careful bringing in players, having medical tests, because of the Coke situation with Sheffield.
"The people speaking have to understand and know exactly how we work. Every time we have a specialist and a specific medical test with every single player - even if we loan one player for one day.
"There is no reason to mention that we have to be careful. This is my job, this is our job.
"The people at the top, in the board, don't have to speak about this job. They have to put in money or not put in money, and not talk about fitness."
He added: "We don't have to be careful, we know how to be careful, we know how to work.
"In my opinion, a normal club should care about the club and then about the squad, which is the heart of the club and don't mention about transfers.
"We know what we're doing. We have already made history with this club.
"Someone has to do his job and see if they are part of the history of this club in the future."