Manager John McGlynn would accept wage delay to save Hearts

By Brian McLauchlin
BBC Scotland
Last updated on .From the section Football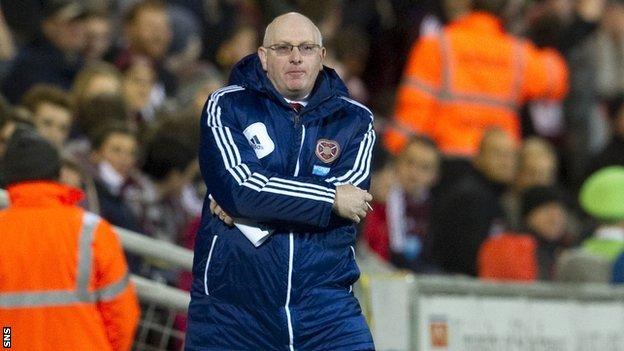 Manager John McGlynn has said that he would be willing to delay the payment of his wages if it meant Hearts could overcome their financial difficulties.
A tax demand for almost £450,000 has the potential to tip cash-strapped Hearts over the edge, with senior club figures warning fans of closure.
"I would be in favour of delaying if that was going to help," said McGlynn.
"I think the players would do anything that is going to help for the long-term benefit of the club."
Her Majesty's Revenue and Customs is demanding the money from Hearts for unpaid PAYE and VAT.
The club is also contesting a tax bill of £1.75m, revealed recently in Hearts' documentation for its share offer.
Further, it has had a transfer embargo placed upon it by the Scottish Premier League for failure to pay some players and coaches on time.
"It's not been mentioned yet," added McGlynn on the notion of agreeing to deferred payment.
"We are basically taking it a day at a time and seeing how things go.
"If it did come to that - it has happened recently anyway - I don't see that being a massive problem, to be honest.
"It can't be easy on the players if they're finding out that possibly, after the game against St Mirren [on 17 November], they might not have a job.
"It's not easy and it's more critical than other situations when they've not been getting paid.
"But we are employees of the football club, everyone is under contract, and we have to be professional.
"At this minute in time, all the players are paid up to date."
Hearts winger Andy Driver called the situation "a really worrying time for the boys".
However, he insisted the players had to concentrate on the match on Saturday against Inverness, a team, assuming Hearts are still operating, they will meet again, in a Scottish Communities League Cup semi-final at Easter Road in January.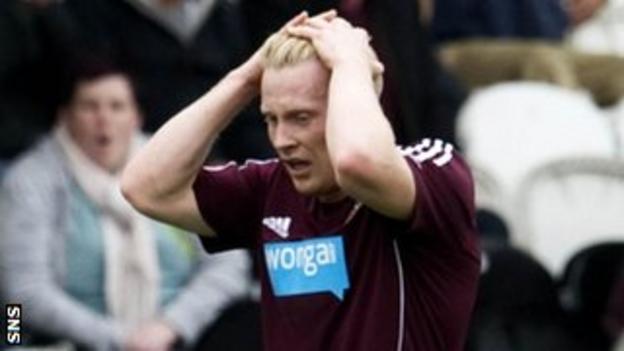 Asked about players accepting late payment of wages, Driver said: "I don't know if they would have any option anyway.
"As a group of boys we are willing to look at options. When the time comes I'm sure everyone will sit down and discuss that.
"We went last year without being paid.
"The biggest point is that the club is being open and honest with us. It's not only us as players, we're all in it together."
Hearts are attempting to negotiate a payment plan with HMRC and have asked fans to buy tickets for forthcoming home matches and invest in the share issue.
McGlynn, who insisted he had no regrets at leaving Raith Rovers last summer to take on the Tynecastle job, added: "If we don't get that money in, then possibly it could be curtains.
"There are many Hearts fans out there - and perhaps football fans as well - who might just go and buy a couple of tickets for the St Mirren game just to try to make sure that those 4,700 seats that we've got available can be taken up.
"That would certainly help at least in the short term."
The managers of Hearts' next two opponents gave their reaction to the Edinburgh club's plight at the League Cup draw.
Inverness boss Terry Butcher said: "Having been at Motherwell before they went into administration, it's a horrible time for everyone concerned.
"Hearts is a great club, a great institution and it means a heck of a lot to a lot people and I hope it sorts itself out.
"The way Scottish football is set up, it's hand to mouth all the time."
And St Mirren manager Danny Lennon added: "It's important we don't lose another big club from the SPL, but every club has got to live within its means."