Martin Jol says Arsenal cannot expect to win trophies regularly
Last updated on .From the section Football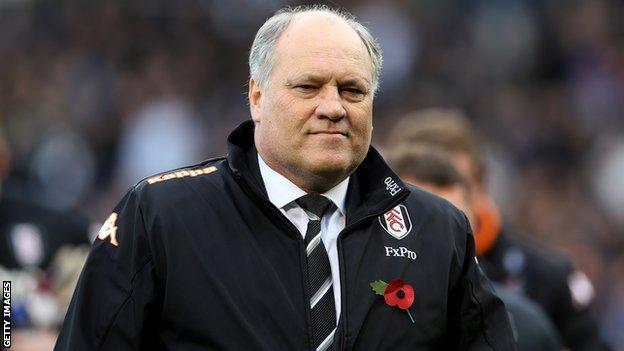 Fulham manager Martin Jol says Arsenal fans should not expect the Gunners to win trophies on a regular basis.
Arsene Wenger's team have not won a trophy since 2005's FA Cup - although Jol says the club might regret it if they ever got rid of him.
"Seven years? That's a long time," Jol said. "Of course, it's probably not what an Arsenal fan wants.
"Wenger created the new Arsenal. Maybe in three years' time, they will hope and pray to get someone like Wenger."
When asked if anger from supporters was justified, former Tottenham manager Jol said: "I don't think you have to be angry. Frustrated is probably the better word."
Arsenal and Fulham are level on 15 points in the Premier League table - seventh and eighth respectively - ahead of their meeting at the Emirates on Saturday.
And former Tottenham boss Jol says Arsenal will struggle to compete financially with clubs like Manchester United, Manchester City and Chelsea.
"If you look at the likes of Man City with almost half a billion spent, Man United, it's not easy nowadays," said Jol.
"Can you expect a team like Arsenal to win things with Chelsea, Man City, Man United, all these clubs?"
Meanwhile, Wenger has revealed the future of Theo Walcott will be sorted out in the next two months.
The England winger is out of contract in the summer but Wenger has reiterated his intent to keep him.
He told the club's website: "My desire is to keep Theo. We will do what's needed to keep him and hopefully we can sort this situation out very soon.
"Very soon is before the end of December - one way or another, that is for sure.
"I don't want to go into any details but you can believe me we do the maximum we can to keep our best players."