Mark Clattenburg misses third week of Premier League games
Last updated on .From the section Football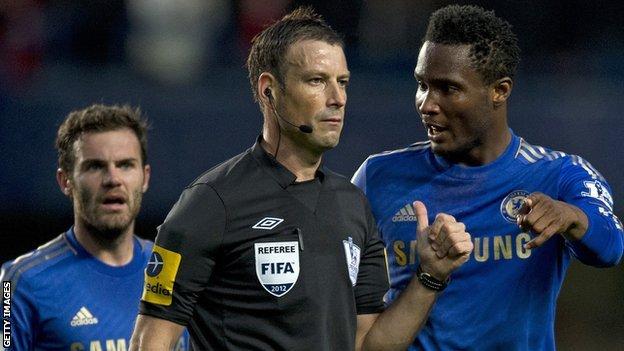 Referee Mark Clattenburg will miss a third week of Premier League matches as the Football Association investigates alleged "inappropriate language".
The 37-year-old, who denies the allegation, is set to discover the outcome of the probe by Friday.
The referee returned to training with the Select Group of referees on Monday.
But he will not take charge of a top-flight match this weekend, having been omitted from the list of match officials for the coming fixtures issued by the Premier League.
Clattenburg has decided jointly with Mike Riley, the head of the Professional Game Match Officials Board, that he should not be in charge of matches while the case is still open.
Chelsea said the complaint was made following a thorough investigation, which they claimed was led by outside legal counsel and used information from interviews with club players and staff.
The Metropolitan Police also started an investigation into the allegations after receiving a complaint from a source outside the game.
Clattenburg had not trained since the start of the investigations but he did so for the first time at St George's Park on Monday.
The governing body has spoken to Clattenburg, along with assistant referees Michael McDonough and Simon Long and fourth official Michael Jones, who were on duty with him at Stamford Bridge.
It is believed all the other officials, who were wired up together with Clattenburg, have said they did not hear any use of the term alleged by Chelsea.
The FA and the police have completed all of their interviews and are ready to move on to the next stage of the investigation process. The FA's regulatory body will next take advice from an independent QC about whether any action should follow. That decision is likely to be made before the end of the week.
FA officials are also keen to ensure a swift conclusion to the case, which follows a recent four-match ban handed to Chelsea's captain John Terry for racist abuse.