Tottenham fans continue controversial chanting
Last updated on .From the section Football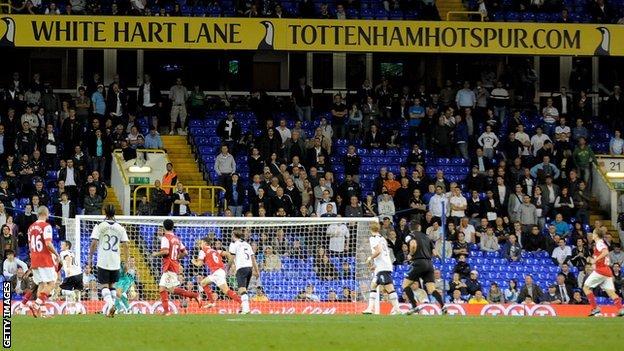 A section of Tottenham fans have responded to calls for them to end alleged anti-Semitic chants by singing "we sing what we want".
Some Spurs fans refer to themselves as the "Yid Army", a reference to the club's Jewish supporters.
Chants continued during Thursday's 3-1 Europa League win over Maribor.
Herbert said: "Why on earth do they think it is acceptable?"
The term is used in a chant by some fans at White Hart Lane and can often be seen on flags and banners at the ground.
However the SBL insisted on Wednesday this must end.
Herbert said: "If the fans wish to continue, if Tottenham wishes to continue, then we will use every means at our disposal to make sure they do get the message which many in the Jewish community have already told us is unacceptable.
"Fans are there to watch football and we are actually deeply saddened that fans are more concerned with what they chant than, in a sense, the game they are supposed to be watching."
Tottenham responded to the SBL's initial call on Wednesday by saying "real anti-Semitic abuse, such as hissing to simulate the noise of gas chambers, is the real evil and the real offence".
The club continued: "Our fans adopted the chant as a defence mechanism in order to own the term and thereby deflect anti-Semitic abuse. Our position on this topic is very clear. The club does not tolerate any form of racist or abusive chanting.
"Our guiding principle in respect of the 'Y-word' is based on the point of law itself - the distinguishing factor is the intent with which it is used, ie if it is used with the deliberate intention to cause offence. This has been the basis of prosecutions of fans of other teams to date.
"They do not use the term to others to cause any offence, they use it a chant among themselves. "
But Herbert said: "What we are doing is exposing the rather nasty underbelly of racism in British sport and this particular aspect of British sport, football, which is a complete contrast to what you had at the Olympics.
"If you had a section of the crowd at the Olympics chanting this do you think it would be tolerated?
"It would be closed down immediately, so I don't understand why something [that] would be unacceptable in August somehow becomes plausible and acceptable because it moves up to a football ground, unless you go with the intelligence in a sense of a people who openly couldn't care less about the feelings of what they say and the impact on others."
Oldham footballer Dean Furman, who is Jewish, has told BBC Sport there should be a "zero tolerance" approach and fans using the chant should be immediately thrown out of stadiums.
But Piara Powar, executive director of the Football Against Racism in Europe organisation, said: "I think this is where Peter Herbert and the Society of Black Lawyers are naive. They perhaps don't know football."