Andre Villas-Boas plans for Tottenham's Manchester City test
Last updated on .From the section Football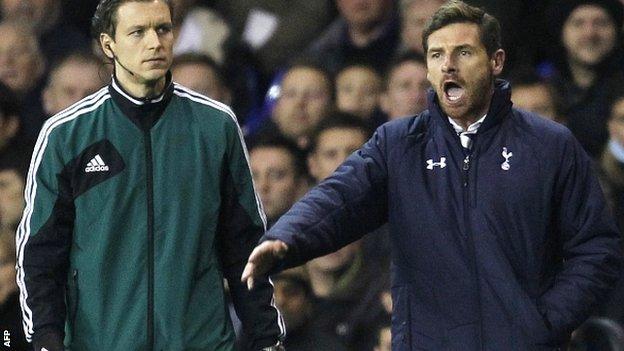 Tottenham boss Andre Villas-Boas says he may return to playing with one striker for Sunday's trip to Manchester City despite successfully using two in Thursday's
Villas-Boas switched from 4-5-1 to 4-4-2 for the first time this season as Spurs won 3-1 in Europa League Group J.
"We're still a team that creates a lot of attacking opportunities with one striker," said Villas-Boas.
"We go four steps up in competition [on Sunday], it's a different scenario."
Tottenham will travel to the Etihad Stadium with some momentum having posted their first Europa League win of the season.
City's own European hopes took a blow on Tuesday when they in the Champions League, meaning they have won just one of their last four games.
"It was a good performance, it was important for us to bounce back," said Villas-Boas. "To do it in such a good manner was fantastic.
"At the weekend we play the champions of England [who are] a totally different proposition. They will want to bounce back after a run of bad results.
"City have two days extra than us, this is the main difference. The reality is they have that extra freshness.
"But there is enough time to recover. The body takes 48 hours to recover from physical effort and we'll be able to make that recovery."
Three draws left Tottenham in danger of slipping out of contention for a place in the Europa League's knockout stage, but four points from the remaining two games will now guarantee their progress.
Spurs looked far more threatening than in recent weeks as Jermain Defoe and Emmanuel Adebayor were partnered in attack, with Gareth Bale and Aaron Lennon providing pace and width from the flanks.
Defoe volleyed Spurs in front and, although the Slovenians equalised before half-time, the 30-year-old struck twice more after the break.
He moves on to 126 goals for Tottenham, overtaking Teddy Sheringham into eighth on Spurs' all-time scorers list.
"Defoe makes the most of his opportunities," added Villas-Boas. "He's a clinical striker and it means a lot to him to overtake Teddy."
Villas-Boas was pleased to see his 4-4-2 formation pay dividends, but would not commit to adopting it against City.
"It was good to see us in this system, with Adebayor coming short and linking play very, very well," he said.
"We have been playing with two strikers, but one off the other one, and we are still a team that creates lots of opportunities with one off or with two up front.
"It was good to see the link up of Adebayor and Defoe, but we ended with one striker coming short all the time so it was exactly the same.
"I base my decision making on the performance in the game and in training. I have not made a decision at the moment but in the short time of preparation I will decide."