Hearts fans urged to raise £2m by summer to save club

By Geoff Webster
BBC Scotland
Last updated on .From the section Football275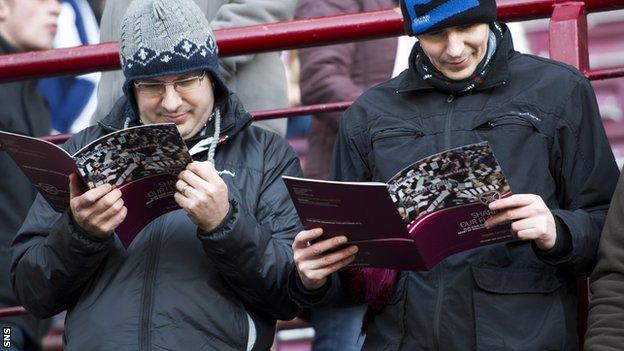 Hearts supporters have been urged to find £2m to help the Edinburgh club survive until the summer.
Steve Kilgour, of the Federation of Hearts Supporters' Clubs, said fans should seize the chance to safeguard their future.
"We have to stand on our own two feet and it's imperative the supporters back the share issue," he told BBC Scotland.
Hearts hope to raise £1.79m with a share offer that will give supporters a 10% stake in the Edinburgh club.
"Vladimir Romanov is no longer financing the club or bankrolling it," Kilgour said.
"We need £2m to carry us through to the summer. Each season, there's a £2m deficit and we have to find that.
"That may come and go a bit if we manage to move players on in January."
Kilgour said it was time for the Hearts fans to stand up and be counted and he appealed to those supporters who bought tickets for glamour ties against Tottenham Hotspur and Liverpool to come forward.
Ticket sales for the Scottish Premier League game against St Mirren - on Saturday 17 November - are "going well", with Kilgour hoping for a sell-out.
"Most of the people we represent are the hardcore support and they will get behind the club," Kilgour added.
"It's the people who were phoning me up leading up to the Scottish Cup final - that's the people who need to stand up and be counted now.
"The guys who were fighting for tickets for Spurs last year and for the Liverpool game this year. They need to now fight for the survivial of the club."
Manager John McGlynn has said that he would be willing to delay the payment of his wages if it meant Hearts could overcome their financial difficulties.
"I would be in favour of delaying if that was going to help," said McGlynn.
Her Majesty's Revenue and Customs is demanding the money from Hearts for unpaid PAYE and VAT.
The club are also contesting a tax bill of £1.75m, revealed recently in Hearts' documentation for its share offer.