Portsmouth: Balram Chainrai suspends bid for club
Last updated on .From the section Football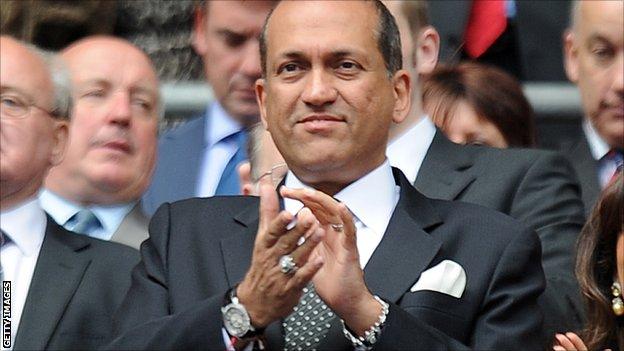 Former Portsmouth owner Balram Chainrai has called a halt to his attempt to buy the League One club.
Hong Kong businessman Chainrai has been trying to assume control at Portsmouth via his company Portpin for a third time in less than three years.
The financially-troubled club have been in administration since February and are said to be around £61m in debt.
Last month the administrators granted "preferred bidder" status to the Pompey Supporters' Trust.
The fans group, however, is still to satisfy the Football League of its suitability.
Chainrai is owed around £17m by the club and holds Fratton Park as security. And in a statement released to the BBC, Chainrai says there is little point continuing his pursuit to take control of the club.
"We believe that the Football League has been put in an invidious position by the administrators - PKF," said Chainrai.
"It is the administrators' job to manage the administration to a successful conclusion to the benefit of all creditors and yet PKF has off-loaded this responsibility to the Football League.
"First, Trevor Birch (administrator) named Portpin as preferred bidder, then, before the Football League was given any time to actually assess our bid, Trevor Birch decided to suddenly withdraw our preferred bidder status the same day, without any credible reasoning.
"The PST was then named by Trevor Birch as the preferred bidder even though our bid remains with the Football League as they continued the process of evaluating our offer.
Chainrai added: "And Pompey fans should be in no doubt that in my opinion they are being manipulated here.
"Behind the PST bid are a number of property developers who now appear to be becoming the majority stakeholders rather than the PST themselves.
"I believe their interest in buying the club is to secure the land. The illusion of the Trust owning Fratton Park is just that: an illusion.
"In reality, property developers will own the land, but they are using the veil of the Trust's bid as a vehicle to obtain and develop land around the ground without having to spend any money on much needed improvements to Fratton Park.
"I also firmly believe that Michael Appleton's departure is a direct result of his frustration at the protracted state of affairs."
However, PST spokesman, Colin Farmery, said Chainrai's comments were designed to de-rail their bid and "worry supporters".
Farmery also defended the Trust's decision to work with a property developer saying it was essential to the future development of the club.
"We've been transparent in that we are working with a strategic property developer," Farmery told BBC Radio Solent.
"As everyone knows the long-term future of Portsmouth Football Club depends on doing a deal on the land around the ground in order to create a stadium that is fit for the 21st century.
"You are not going to do that on your own, you are going to have to work with a property developer or developers in order to do that.
"It's ridiculous from Portpin to suggest that this is underhand - it is a necessity to work with a property developer."
Portpin's statement added that it would also seek clarification from HM Revenue and Customs as to their decision to appoint PKF as administrators.
When contacted by BBC Sport, administrators PKF declined to comment on Chainrai's allegations and statement.