Hearts shares were offered to pay tax, says Sergejus Fedotovas
Last updated on .From the section Football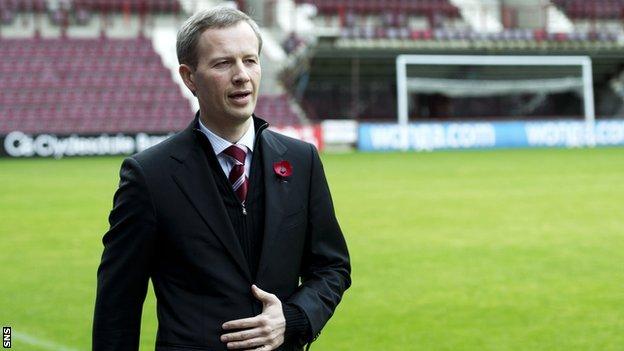 Director Sergejus Fedotovas has admitted Hearts' launch of a share offer was aimed to help pay a tax bill.
And, speaking after the club were issued with a winding up order over the bill, Fedotovas said: "HMRC was made aware we were launching a share issue.
"And we had an understanding with them that they would allow us to take a run with the share issue that would allow us to pay them."
Last month, Hearts invited fans to buy shares belonging to owner Vladimir Romanov in a bid to support the long-term future of the club.
At the launch, Fedotovas insisted the money raised would not be used to pay
And Fedotovas has criticised HMRC's handling of Hearts' financial plight.
"In this situation HMRC have been very difficult," he said.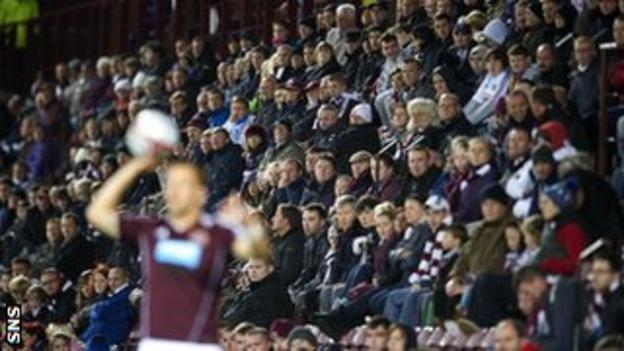 "It appears they don't want to see anything, they don't want to listen to anything. There were situations in the past but we've dealt with that before.
"Now the amounts are dramatically lower. The overdue amounts are just from last month and the previous quarter. They [HMRC] are treating this situation really wrong.
"This is not just a usual business. It's a club, it's an institution. It means a lot to people in Edinburgh and in this country."
Hearts issued an open letter to supporters on Wednesday urging them to buy tickets for their next three home games or face the prospect of the club closing down.
But Fedotovas is confident that threat can be avoided.
"I think they [Hearts] will continue, but only with the help of the people and with the good will and determination," added Fedotovas. "We all need to believe and do something about it.
"I need to say thank you to the great supporters. They're really great people, who heard our call, bought shares and are looking for various ways to help the club.
"They really feel that this club is part of their life, and I can't find the right words to express my gratitude for that.
"The numbers have picked up. We are seeing some progress. Hopefully this will continue because we need it, we really need it."