Denis Law wants Scot to replace Craig Levein as national coach
Last updated on .From the section Football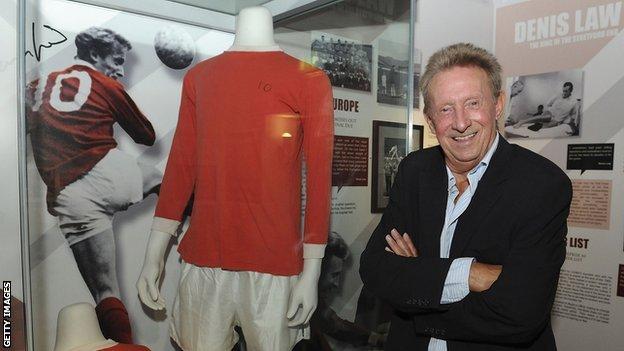 Scotland's joint-record goalscorer Denis Law believes the national team's next coach should be a Scot.
Law would be happy to see Kenny Dalglish, Joe Jordan or Gordan Strachan replacing Craig Levein, who was sacked on Monday.
"The one thing with those three guys is that they never give up. It's such a difficult job to do.
"If one of those three was the one that was selected, I would have no argument with that," Law told BBC Scotland.
Dalglish and Law netted 30 times for Scotland, while fellow striker Jordan scored 11 goals for his country.
Strachan, the scorer of five international goals, is the favourite for the role, according to Law.
"I think most people would be happy with him," Law said of Strachan. "To me, he was an excellent player, a typical Scottish player; attacking, busy, scoring goals.
"I hope he brings something like that back into the national team. We need that.
"Kenny Dalgish? One of the best players ever for Scotland. He's been in the management side, so I wouldn't disagree with Kenny Dalglish either.
"If you look at Joe Jordan as a player, I wouldn't like to play against him.
"I was glad I was Scottish and I was in the same team as him. So yes, he's another one."
Levein came under severe pressure and was ultimately after the Scots took just two points from their opening four World Cup qualifiers, with two home draws followed by two away defeats.
"I must admit I'm very disappointed with the results so far," added Law.
"In football, in a competition, you really have to win your home games. That is crucial.
"When you only draw and you've dropped two points, you're not going to get a great many victories away from home.
"It was really important to win those two games. Now, it's a desperate battle really.
"You never know. Whilst there's the opportunity or the chance still there, you can never give up. You look at the table and it doesn't look good."