Derby's Will Hughes tipped to shine for England Under-21s
By Owen Phillips
BBC East Midlands Sport
Last updated on .From the section Football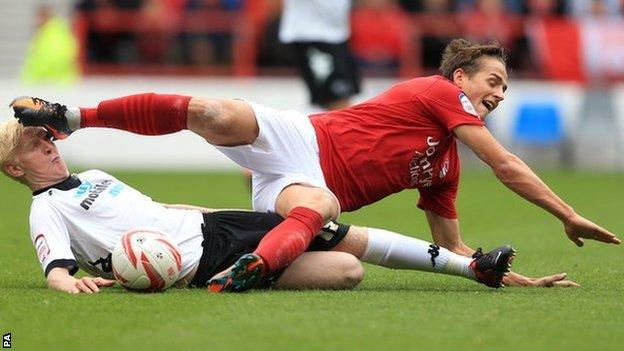 Derby County Academy manager Darren Wassall says 17-year-old midfielder Will Hughes deserves his England Under-21 place and has the temperament and talent to shine at international level.
Hughes has been a regular for the Rams this season and will become England's second-youngest U21 player if he plays against Northern Ireland on Tuesday.
Wassall told BBC Radio Derby: "He is playing fantastically well.
"He is naturally level headed and comes alive when he steps onto the pitch."
Hughes, who scored in Saturday's 2-1 defeat away to Millwall, only made his debut for the Rams against Peterborough United last season as a 16-year-old.
He made two further appearances at the end of last term, but has been an ever-present for Derby this season, appearing in all 17 of their games.
Wassall said Hughes is not the sort of character to let his early success affect him negatively, but has a very good insurance policy in place in the form of Rams manager Nigel Clough.
"Will is very unassuming and he is still officially a second-year scholar," Wassall said "He mixes well with his own group. He is very modest and his feet are firmly on the ground.
"The manager will definitely make sure he stays level-headed. I think he is naturally level-headed anyway. He comes alive when he steps over that white line as anyone will have seen so far this season if they have been to Pride Park and watched any of his games."
Hughes, who could become the second-youngest player to represent England Under-21s behind Arsenal's Theo Walcott, is one of five new faces in Stuart Peace's squad for the game at Blackpool's Bloomfield Road.
Former Nottingham Forest and Derby centre-back Wassall is certainly not surprised by Hughes' elevation to the England Under-21 set-up.
"It's a great achievement to get in at 17 and we are all delighted for him," Wassall added. "To make that rise into the Under-21s so soon is fantastic for him and everyone at the club.
"For a 17-year-old to be playing in the first team of a Championship side is very unusual. I bet there are not many 17-year-olds playing at the level Will is week in, week out.
"He still must be pinching himself over what has happened over the last six months, having made his debut for the England Under-17s in February and his debut for our first team. At the moment he is a mainstay in the team and that is what he needs to concentrate on."
Wassall, who was brought to the club to work with the youth set-up by Clough in April 2009, has watched Hughes progress into the first team and also through the grades with England.
"Will was already here when I joined and he has continued his progress since then, Wassall said. "He joined full time as a scholar last July and since he joined 18 months ago he has gone from strength to strength.
"At the moment his football is doing the talking and the fact he has been picked for the England Under-21s is great credit to him."
Hughes has also reportedly attracted interest from Premier League sides, with Manchester City and Liverpool both rumoured to be keen.
Wassall believes it is inevitable Hughes will be linked with a move away away from Pride Park.
He said: "When a 17-year-old as talented as Will gets in to anyone's first team people will take notice, particularly with the way he is playing - and he is playing fantastically. That goes with the territory but he is playing for Derby, is under contract and hopefully will be for many more years to come."
And Wassall was also delighted that Hughes was by no means the only homegrown Derby player to progress into the first team in the past couple of seasons
"If you are good enough you will get an opportunity at Derby County," Wassall added.
"You can have the best academy in the world but if the lads don't get the opportunity to progress then you are wasting the time.
"We are fortunate at Derby in that we have a manager and coaching staff who are very interested in the academy and youth football and they will push the players and that has been proven with Will, Mason Bennett, Jeff Hendrick, Mark O'Brien, Callum Ball and Kwame Thomas.
"If they are deemed good enough they will get the opportunity, and as a young footballer that is all you can ask for."
Darren Wassall was talking to BBC Radio Derby's Derby County commentator Colin Bloomfield.