Manchester City's European woes continue

By Phil McNulty
Chief football writer, BBC Sport
Last updated on .From the section Football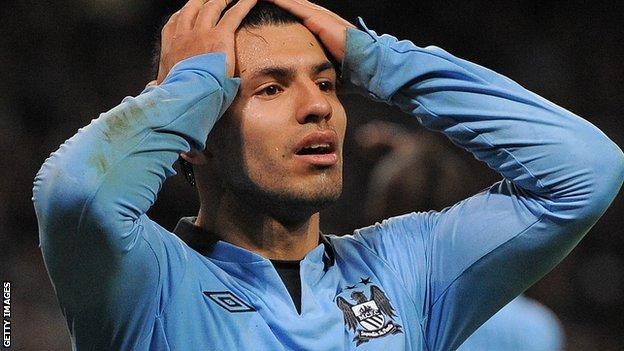 Manchester City's supply of miracles probably ran out on the day they scored twice in stoppage time to win the Premier League. Roberto Mancini should not expect another to save them in the Champions League.
The City manager accepts this is what they need to prevent the torch-bearers for the self-styled "best league in the world" from suffering the chastening experience of an exit at the group stage for the second successive season.
Manchester United failed to make the knockout phase last season and neighbours City are doing an even more convincing job of not making it this year.
Their 3-1 defeat by Ajax in Amsterdam leaves them with only one point from three games, a point most observers could reasonably put down to outrageous good fortune as they somehow got a draw against Borussia Dortmund after losing to Real Madrid in The Bernabeu.
What a humbling 24 hours it has been for the Premier League as blows have been inflicted to its not inconsiderable pride at home and abroad.
Manchester United stumbled and almost fell before coming from two goals behind to beat SC Braga of Portugal while Champions League holders Chelsea were beaten more convincingly by Ukraine's Shakhtar Donetsk than a 2-1 scoreline suggests.
This was merely the starter for the full horror of a black Wednesday when Arsenal were utterly outmanoeuvred on their own ground by the German Bundesliga's highly-impressive Schalke 04 and - most significantly - Manchester City imploded in the Netherlands.
Arsenal manager Arsene Wenger faces the club's shareholders on Thursday morning and judging by the amateur financial analysis being bellowed into the media area at the final whistle against Schalke, one matter will rise above all others.
It will be the vexed question of why Arsenal do not spend more, why they continue to lose marquee stars such as Robin van Persie and still refuse to join the real big spenders. They are understandable questions after seven years without a trophy.
Wenger and Arsenal's hierarchy were unlikely to receive an easy ride come what may. The manner in which they were dismantled by Schalke will make the inquisition even more pointed and painful.
Arsenal barely created a chance worthy of the name and once Schalke realised that Brazilian left-back Andre Santos was - and this is not a phrase used lightly - a complete liability, the game was up.
Schalke were, and this will also pain those who continue to champion the Premier League as the great global brand above all others, technically and tactically superior to Arsenal and fully deserved the win goals from Klaas-Jan Huntellar and Ibrahim Afellay gave them.
Consolation comes for Arsenal in the shape of likely qualification for the last 16 but it was not a performance designed to appease or reassure a worried fan base.
While Wenger faces shareholders, Mancini faces old demons and arguably an even bigger inquest after proving once more that he cannot get a handle on the Champions League.
It is true City were drawn in the time-honoured "Group of Death" - but this does not mean manager and players had to hasten their own demise with a series of self-inflicted wounds. This was a group any of the Premier League's quartet would have found difficult. The champions are making it look impossible.
City's failure to qualify for the knockout games last season was put down to the testing transformation of a first season in Europe's elite competition. There can be no excuses for their abject effort this time.
It is now only an outside bet that City will even rise to third place in their group and claim a slot in the Europa League, although whether they want that is another matter.
The added complication is that if City fail to turn what looks like a terminal situation around, their lack of pedigree in the tournament leaves them wide open to the prospect of another hazardous draw should they qualify next season.
There are still games to play and still opportunities to avoid those inquests. On the evidence so far, however, all signs points to an early farewell.
And if that happens, much of the spotlight will fall on Mancini who, despite his successes in domestic competition, has failed to master the intricacies of this tournament. He never got further than the last eight during his successes at Inter Milan and unless the sky falls in on their Champions League rivals this season, it will start to represent a scar on his City record.
Mancini was brutally honest in accepting he prepared badly for the game and seemed to spend much of the night in Amsterdam attempting to correct his failings without ever coming close to finding the answer.
Just reaching the Champions League was an achievement for City last season but there was pride at stake this time after winning the Premier League title. In place of pride has come embarrassment after the capitulation in Amsterdam.
For a team that was based on the solid Mancini template, they have looked horribly vulnerable in Europe and this must be a major concern. Defender Micah Richards hinted at confusion and a lack of tactical understanding from the players when the Italian switched to three at the back.
The more Mancini tries to find the formula that will bring him satisfaction in the Champions League the more it appears to elude him and frustration was writ large on his face after this latest defeat.
There have been moments at home when it has looked like Mancini has put all the pieces in place, a solid defence locked on to a gifted and varied attack by the powerhouse that is Yaya Toure. On foreign soil the effect has never been as convincing and it was exemplified against Ajax.
The whole message of the evening appeared to be a manager and players ill-at-ease in this arena. As a result it is an arena they are unlikely to be occupying for much longer.
Champions League failure is hardly likely to plunge the Mancini regime into crisis but there is little doubt City's Abu Dhabi owners will have been disappointed with events in Amsterdam. They celebrated winning the English league title but their ambition is such that it is certain they wanted a lot more than a group stage exit in Europe's premier competition.
In Mancini and City's defence, winning the Champions League is no quick job. It should be remembered it took just under nine years of extraordinary investment in Chelsea by owner Roman Abramovich before they claimed the crown.
This will be of no consolation to City as they face another early elimination and one of Mancini's immediate tasks will be to ensure the pain of events in Europe does not impact on domestic affairs as they try to retain the Premier League.
Where there is life there is hope - but even Mancini appeared resigned to Manchester City's fate after another dismal Champions League night.