Clattenburg claim takes game into uncharted territory

By Phil McNulty
Chief football writer, BBC Sport
Last updated on .From the section Football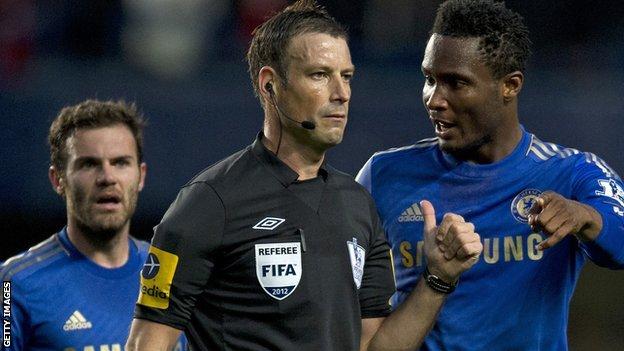 For an hour Stamford Bridge staged a football match to savour. Chelsea and Manchester United spent this time laying out every exhibit to illustrate their potential to be Premier League champions.
How sad that football is once more second on the agenda. This was a game that was on its way to being celebrated but instead concluded in a toxic cloud of controversy, recriminations and accusations involving referee Mark Clattenburg.
The post-match developments after United's contentious 3-2 win that saw Chelsea make a formal complaint to the authorities about Clattenburg is of such a serious nature that it will overshadow all that went on at Stamford Bridge.
Referees' organisation the Professional Game Match Officials says Clattenburg will co-operate fully into any inquiry and welcomes the facts being established - but once again what is meant to be the main event is pushed into the shadows by happenings in and around it.
Even before that news seeped out from the dressing room area into what was already a highly-charged environment, Clattenburg had endured a trying and mixed 90 minutes.
As the clock moved past the hour mark, this was a match perched on its tipping point.
At 2-2 it could have gone either way. In an antagonistic finale it is impossible to shake the conclusion that the work of the officials moved the delicate balance decisively United's way.
United opened in blazing style and opened up an early two-goal lead through David Luiz's unwitting deflection and Robin van Persie's superb finish. Chelsea, once they had shaken their heads and cleared the shock, responded magnificently with goals either side of half-time from Juan Mata and Ramires.
And so Stamford Bridge awaited the fight to the finish conclusion of this heavyweight contest - only to see it end as unsatisfactorily as a classic boxing match stopped on cuts.
No-one could seriously question Clattenburg's decision to send off Branislav Ivanovic for tripping Young as he went through.
Chelsea were still in the hunt with 10 men but any slim chance left town when Fernando Torres quickly joined him in the dressing room.
It was a defining moment. Torres, who was actually just about to be replaced by Daniel Sturridge, was clearly caught on the shin by Jonny Evans. The fall may have had an extra flourish but he was caught.
Evans stood with arms outstretched awaiting sanction but instead Clattenburg advanced clear in his mind that Torres had dived. It was his second yellow and a sending off - and Chelsea were left with a numerical disadvantage they simply could not overcome.
The task of refereeing at elite level is fiendishly hard and requires nerve as well as ability. The problem here was that Clattenburg surely needed to be 100% certain Torres has indeed simulated to make a decision of such magnitude. None of the evidence was that clear cut.
And to make matters worse United's winner, that came accompanied by a sense of inevitability, was scored by Javier Hernandez from an offside position.
Clattenburg left Stamford Bridge with neat vitriol being poured in his direction and what was a fine advert - in a purely footballing context - for the Premier League was further scarred as objects were hurled at United players celebrating Hernandez's goal and a steward ended up in hospital after being injured in the same incident.
There was even an unseemly spat between the two benches after the sending off of Torres, with Chelsea's staff making their sense of injustice clear to a plainly unmoved Ferguson.
Chelsea manager Roberto Di Matteo, with a measure of justification, suggested his team could have gone on to win if it remained 11 against 11. Ferguson, with equal conviction, could say the same.
The over-riding sadness, especially for the neutral observers it should be said, was that it was not left to both sides to go at each other fully-loaded to find a winner.
United ended with the three points and there was plenty to please Ferguson.
They have once again shown that for any perceived defensive and midfield frailties, United have a range of attacking options and formations that make them intensely formidable.
Van Persie is a guarantee of goals. Wayne Rooney can operate either in a deeper position as a creator or as an attacker. And in Antonio Valencia that have a winger of real pace and threat.
He started, along with Ashley Young, after United manager Sir Alex Ferguson revealed he heard an 80-year-old grandmother from Rochdale called Margaret bemoaning his use of the diamond formation on the club's in-house television channel.
The angry Octogenarian found Ferguson in agreement with her on this particular occasion and United's width and pace were crucial ingredients in a win that now leaves them only one point behind Chelsea.
For Chelsea, there was also plenty to admire in their work, even in defeat. Yes, there were flaws at the back that left them playing catch-up but they showed admirable character to fight back and even their nine men were only undone by an offside goal.
So much to admire and yet so much of it to be ignored in another inquiry into "who said what to who" that has become the game's regular companion in recent times.
Once again, football comes in second.