Lame Arsenal a shadow of Man Utd's former foes

By Phil McNulty
Chief football writer, BBC Sport
Last updated on .From the section Football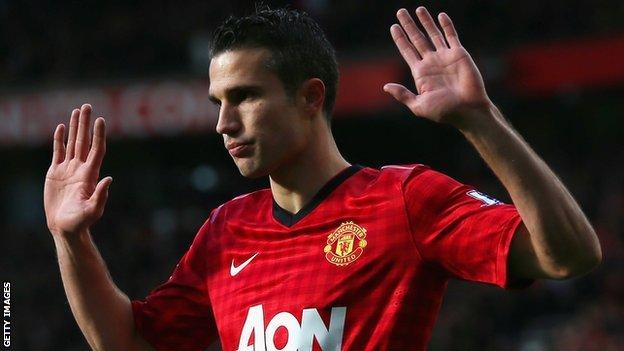 At Old Trafford
Sir Alex Ferguson was almost wistful as he sounded like a man pining for the dangerous days of flying pizzas in the Old Trafford tunnel.
The meeting between Manchester United and Arsenal was once a fixture to count on if you wanted pure theatre on and off the pitch.
It was a match that decided titles and provoked behaviour, good and downright awful, reflecting those pressures.
"Pizzagate" - when Ferguson was struck by flying foodstuffs hurled from Arsenal's dressing room in 2004 - was merely one of many manifestations of a rivalry that was ferocious in its intensity.
Downcast Ferguson was not even cheered by United's 2-1 win over Arsenal that took them back to the top of the Premier League as he declared: "The whole day was disappointing."
And this was because the serious element of competition was removed by Arsenal's lame performance.
Arsene Wenger's team were so polite and accommodating, apart from the combative Jack Wilshere as he received a red card, that the only threat to Ferguson was being killed by their kindness.
There was animosity off the pitch as Arsenal's supporters ignored Wenger's plea to respect former idol Robin van Persie. They abused him loudly with lurid chanting but once he responded by scoring with his first kick of the game it was effectively over.
United could afford the luxury of Wayne Rooney's missed penalty before Patrice Evra's second goal after 67 minutes rewarded their vast supremacy.
It would insult the intelligence of Arsenal's fans to describe Santi Cazorla's goal with the last kick of the game as any measure of consolation.
It was not a defeat on the humiliating scale of last season's 8-2 thrashing at Old Trafford but it is hard to imagine Wenger, in his quieter moments, gaining any more satisfaction from this. The scoreline was close - the contest was not.
Ferguson's disappointment was probably buried deep in the knowledge that United should have beaten Arsenal more convincingly. He still carries the scars of a title lost on goal difference to Manchester City last season.
For Arsenal and Wenger the concerns run deeper. They did not show Van Persie what he was missing, indeed Arsenal demonstrated much about why he left. This was not the stuff to force him into a single backward glance towards The Emirates.
The atmosphere was as flat as a pancake. Fans of both sides left long before the end and this was an Arsenal team that looked like it never believed for one second it could beat Manchester United.
Once Arsenal's travelling support had tired of vilifying Van Persie, they turned on their own. From chants of "Wenger, Wenger Sort It Out" to "Ivan Gazidis What Do You Do?" (expletive deleted) to the now traditional cry of "We Want Our Arsenal Back", there was an air of genuine discontent about the club's direction.
Wenger, rightly given his achievements, still generates much goodwill and support but Arsenal - despite shafts of early season optimism - are nowhere near title contenders.
And while Wenger regards Champions League qualification as a "third trophy" after winning the title and the Champions League itself, no-one would say with absolute certainty they will claim that prize this season.
The key question is how much longer Wenger will tolerate living life on the margins of what he regards as real successes after the glories of his past - but the immediate frustration is directed towards Arsenal's boardroom.
At the recent Annual General Meeting, chief executive Gazidis insisted that in the next two years Arsenal will have the financial resources to sit alongside and compete with the world's leading clubs. Fine words, but the worries are where Arsenal the football team will be in two years.
It is a message greeted with scepticism by many Arsenal fans as a sort of footballing version of Del Boy Trotter's hopelessly optimistic mantra to brother Rodney in "Only Fools And Horses" when he said: "This time next year we'll be millionaires".
The suggestion at the same meeting that Van Persie was sold for football reasons also fails to hold a drop of water. It made perfectly sound financial sense to rake in £24m for a player refusing to commit in the final year of his contract but there was never a football reason to sell.
Arsenal may yet end in the top four and claim silverware that has eluded them and Wenger since 2005 but in amid the mess and timidity of this display it was clear they will not register in any serious discussion about the destination of the title.
The Gunners were impressive in victory at Liverpool to hint at good things ahead. Wenger's track record also deserves, at the very least, the respect deserving of a manager who knows how to finish in the top four.
It is the easiest line in the world to write that Arsenal's manager is stale and should be changed. Rather more difficult is suggesting a realistic contender to succeed him.
But he was nowhere near blameless here. Wenger's team selection contained obvious flaws and United, even in low-key mood, were still aware enough to exploit them.
A recent viewing of hapless left-back Andre Santos against Schalke 04 in the Champions League suggested his confrontation with the speed and direct approach of Antonio Valencia was best viewed from behind the sofa with the lights off. It was worse than that - for a time in the first half Santos was trending on Twitter and not in a good way.
Santos looked and played like a liability. There seemed no sound logic for his inclusion and there was a case within minutes of removing him and introducing Laurent Koscielny, shifting Thomas Vermaelen to left-back. Wenger also had the option of playing Bacary Sagna at left-back and selecting Carl Jenkinson. It would have at least spared the Brazilian's embarrassment.
Just as mystifying was Wenger's decision to leave Theo Walcott on the bench. He may have played 120 minutes in the 7-5 win at Reading in midweek but he is 23 and at his peak of fitness with a hat-trick to feel good about.
Walcott is already surrounded by speculation about his future with Liverpool loitering with intent, and he may wonder what he needs to do to get a run up front, especially with Olivier Giroud's radar once again wayward and Lukas Podolski anonymous.
The naysayers may suggest it is too early in the season to express these concerns but a listen to the anguished voices of Arsenal fans inside Old Trafford told the story.
And when even an old foe like Ferguson fails to gain any obvious pleasure from beating Arsenal then all those questions about their current status carry even greater validity and weight.