Mancini must recognise brutal truth for Man City

By Phil McNulty
Chief football writer, BBC Sport
Last updated on .From the section Football0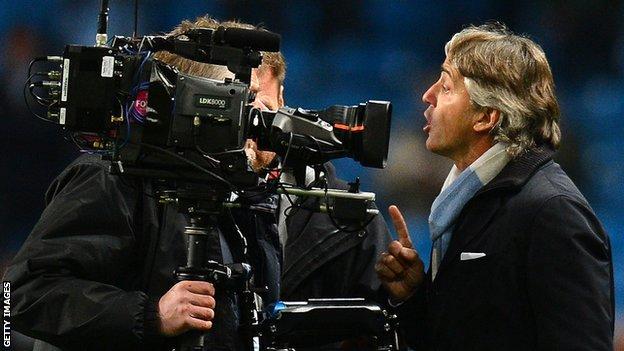 At Etihad Stadium
When Roberto Mancini's rage against the slow death of Manchester City's Champions League aspirations finally fizzles out, it will be replaced by the recognition of a brutal truth.
Mancini was the flesh and blood embodiment of all the frustration this competition has brought City as he stalked on to the pitch carrying bitter disappointment and a burning sense of injustice at the end of the 2-2 draw with Ajax.
The result leaves the Premier League champions needing to win their final two games at home to Jose Mourinho's Real Madrid and away to Borussia Dortmund, then a few other cards to fall favourably, to avoid a second successive departure at the group phase.
This combination of an imminent exit and a contentious finale led Mancini to boil over for the second time this week as Danish referee Peter Rasmussen and a television cameraman felt the full force of the Italian's fury.
Ajax's fans had urged "Always Look On The Bright Side Of Life" as they went into a two-goal lead - it became clear in those chaotic final scenes there were no takers of a sky blue persuasion.
Rasmussen was the target after Sergio Aguero's late strike was ruled out by a borderline offside decision while he did not award a penalty in the final seconds when Ajax defender Ricardo van Rhijn clutched a large piece of Mario Balotelli's shirt, although there was a touch of six of one and half-a-dozen of the other about it.
Mancini's jets had not cooled when a cameraman copped it for invading his personal space. It was a ragged end to a ragged night that summed up City's flawed Champions League campaign.
Heads will soon clear - although Mancini may not have heard the last of his impromptu pitch invasion from Uefa - and when they do City and their manager must accept that they are to blame should they fail to reach the last 16. This campaign has not been a hard luck story - City have not been good enough.
Mancini announced that City's destiny will be to win the Champions League if they escape this perilous position and get out of the group. He perfected the art of dismissing his own team's chances during last season's triumphant title race - but this time he is likely to be right.
There is currently a strange atmosphere surrounding City and Mancini. It has manifested itself in a lack of belief in the Champions League and appears to have spread to the supporters, who were subdued until a second-half rally lifted spirits.
It was as if players and fans were in need of inspiration to make City feel as though they really belong in this competition. The spirit of Mancini's men should not be doubted, given the manner of Tuesday's comeback from two goals down to almost win, but a spark is missing.
City have struggled to get to grips with the Champions League, even with the added layer of confidence being champions should give them, while Mancini himself has never got a handle on it, either with Inter Milan or at Eastlands.
Hindsight is a wonderful gift but perhaps City did need an "A-List" signing such as an Eden Hazard or Javi Martinez to lift them to the extra level required in the Champions League, to make them feel collectively more at ease on this stage.
The sloppiness that handed Ajax captain Siem de Jong two early goals from corners is what Mancini should remember, not his feeling of ill fortune.
Among the usual debate about zonal marking, this was simply a case of Manchester City's defenders not doing the basics of defending and paying for it. If it had happened down the divisions in England, questions would have been asked, let alone at this rarified level.
Mancini has cut a pressurised figure this week, reacting angrily about links with other clubs on Monday then quick-marching on to the pitch in search of aggravation on Tuesday. It was not a pretty sight.
Of course the miracle may yet happen, but the truth will hurt City and it is this - two points from four games is a fair reflection on their performances and a dismal return on the investment their Abu Dhabi owners have made in this squad. One of those points, at home to Borussia Dortmund, was a gift from the gods as a last-gasp penalty rescued them after a superb display by goalkeeper Joe Hart.
Dortmund's draw with Real Madrid may have opened a door but City, in the Champions League at least, seem too timid to walk through it.
It takes time to grow into the Champions League let alone win it, and there will be pains along the way. Chelsea took until 2012 to finally win it, and Arsenal have been hammering away in the competition for years without lifting the trophy.
So to expect City, no matter how much was spent, to pitch up and instantly lay waste to Europe's elite was somewhat fanciful, especially given the groups they have been given. Where City have come from in such a short space of time should offer some context.
What could reasonably be expected is better than two points from four games, amid a sense that City are still not getting to grips with the requirements of the Champions League.
Before kick-off, young City fans brandished a banner emblazoned with the message "We Still Believe".
City will never have a bigger opportunity to prove they still believe than when Real Madrid come to Manchester later this month - but Mancini's anger may just have betrayed his own belief that their chance has come and gone.