Referee chief responds to Killie boss Kenny Shiels criticism
Last updated on .From the section Football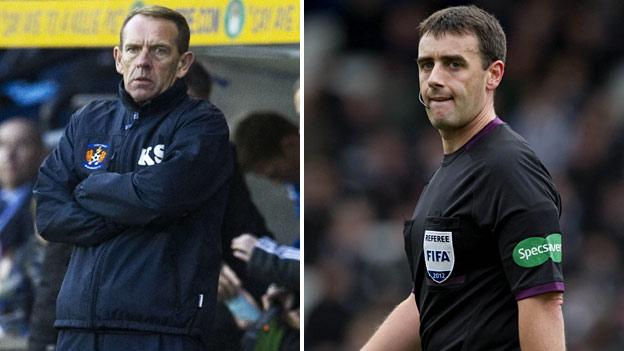 Kilmarnock manager Kenny Shiels has been criticised following his comments about referee Euan Norris.
However, Scottish FA head of referee development John Fleming said he was "disappointed" Shiels spoke to the media before consulting him.
"There was no sarcasm; no flippancy. It is what Euan believed," said Fleming.
Following the defeat last weekend, Shiels said: "I don't like people being disrespectful to me or my club.
"I shook hands with him after the match and I didn't say one word to him and he came out with a sarcastic retort to me and I've just reported him."
Norris awarded Caley Thistle two penalties - one that Cammy Bell saved and the second from which they went 2-1 ahead after the goalkeeper was sent off.

Kilmarnock have since had their appeal against Bell's red card upheld.
Fleming said:"I was disappointed that Kenny Shiels elected to speak to the media before myself in relation to comments from Euan Norris he alleged were sarcastic in nature after the Kilmarnock v Inverness SPL match last weekend.
"I was especially disappointed by this course of action since, in the very same interview, Kenny admitted he 'did not know exactly what was said but it was something flippant'.
"For the purposes of clarity, there has been no formal complaint received and no action intended against the match official.
"I've discussed the matter with Euan and his explanation is as follows. He was approached immediately after the full-time whistle by the Kilmarnock manager, who was shaking his head in disapproval.
"When confronted by a clearly unhappy manager on the field of play, Euan said: 'You are shaking your head for the benefit of the spectators'."