Talking Tactics: How Mancini made changes to sink Spurs
Last updated on .From the section Football

In his regular BBC Sport column on football tactics, Robbie Savage takes a closer look at Manchester City's 2-1 win over Tottenham.
City boss Roberto Mancini has been given a lot of stick this season for making what people have seen as unnecessary changes to his formation.
But his tactical tinkering, with his system and with his personnel, was the key to City's comeback from 1-0 down to beat Spurs.
Maicon came off the bench in the second half as City switched from a back four to a three-man defence and another substitute, Edin Dzeko, was the man to score their last-gasp winner.
MAICON MAKES THE DIFFERENCE
At most of the teams I played for in my career, we usually had one basic formation which we stuck to - no matter what other changes were made during games - because the manager was limited by what he had on the bench.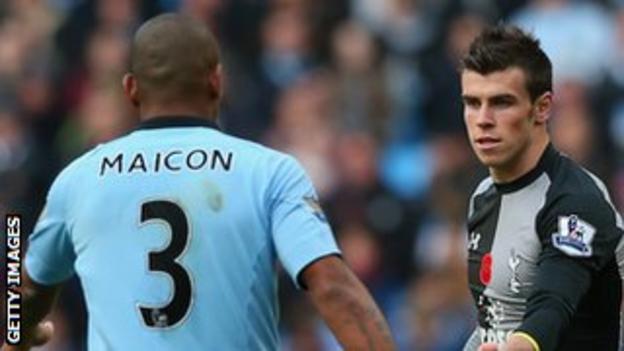 At City, Mancini can be more radical than most because of the quality and variety of players at his disposal.
But he still has to be brave to make sweeping changes to try to alter the direction of games, because they can backfire.
The most bizarre change I have experienced during a game came when I was playing for Wales in a friendly against Leyton Orient in 1996 and the manager Bobby Gould decided to move our centre-back Chris Coleman, who is of course now in charge of Wales himself, out onto the left wing.
It was a warm-up game before we played San Marino in a World Cup qualifier and Bobby must have thought they had a small full-back because our game-plan changed and we started hitting diagonal balls out to Coleman.
It did not work too well. We ended up losing 2-1 to Orient, who were then a Division Three side (the division now known as League Two), and reverted to a flat back four against San Marino with the experiment definitely over!
Clearly Mancini has not tried anything as outlandish as that in his time with City and, for all the criticism he has been getting, he has not actually played anybody out of position.
Even so, you still feared the worst for City on Sunday when Maicon came on after 56 minutes. There must have been plenty of people waiting to leap on to Mancini's back again.
The Brazilian was taken to the cleaners by Gareth Bale when he was playing for Inter against Tottenham in 2010, and I saw him struggle badly as an orthodox right-back against Cristiano Ronaldo when Real Madrid beat City in September.
So you can understand why Spurs fans cheered Maicon's introduction, and Bale must have been thinking the same. Instead, his arrival proved a masterstroke.
Up until he came on, City were playing a variation of Mancini's favoured 4-2-3-1 formation and were finding it difficult to break Tottenham down.
Usually when you play that formation you look for your full-backs to get forward but Pablo Zabaleta and Gael Clichy had got super-tight to Bale and Aaron Lennon to nullify Spurs' main attacking threat.
Zabaleta and Clichy did that exceptionally well and it meant that, with Emmanuel Adebayor on his own up front, the only way Spurs looked like scoring was from a set-piece, which unfortunately for City is exactly what they did.
But the two sets of wide men cancelling each other out also played into Tottenham's hands because it meant that, apart from a couple of decent runs down the right by Zabaleta, when City did come forward early on then it was mostly through the middle.
Tom Huddlestone and Sandro were soaking everything up in that area for Spurs, particularly Sandro who was mopping everything up, covering runs and making good tackles.
So City were dominating possession but not doing anything with it because they were very narrow. That changed when Maicon came on and they switched to a 3-5-2 formation, and he was the man who made the difference in the game.
It was a gamble because it really opened the game up and gave Spurs more of a foothold in midfield too. There was more space for Bale and Lennon in the final third and City were no longer seeing most of the ball.
But, crucially for City, they also had an injection of pace down the right and the boot was on the other foot with Bale, who was not giving Jan Vertonghen enough help in dealing with Maicon, allowing the City player to run at him and put balls into the box.
Maicon's performance was an example of how a player can struggle at full-back in a four-man defence but can be a revelation when he is released as a wing-back as one of the five men across the middle.
The tweak to City's midfield freed Yaya Toure up to make darting runs forward too and have a much bigger influence on the game.
And with Kolarov also high up the pitch on the left, City were able to get wide and behind the Spurs defence, which for some reason continued to try to hold a line high up the pitch and was soon exposed by Sergio Aguero's equaliser.
SUPER SUB DZEKO DELIVERS AGAIN
Maicon was not the only inspired substitution by Roberto Mancini at the Etihad Stadium on Sunday.
Dzeko may not like being known as a super-sub but his manager and team-mates definitely won't mind seeing him come on to score vital goals like his late winner.
During my time at Blackburn, we had our own player in Matt Derbyshire who scored quite a few goals for us when he came off the bench.
He was clever and had a bit of pace and sharpness about him and, even though he was only a young kid at the time, we used to see him coming on when we were behind and struggling in games and think 'we've got a chance here'.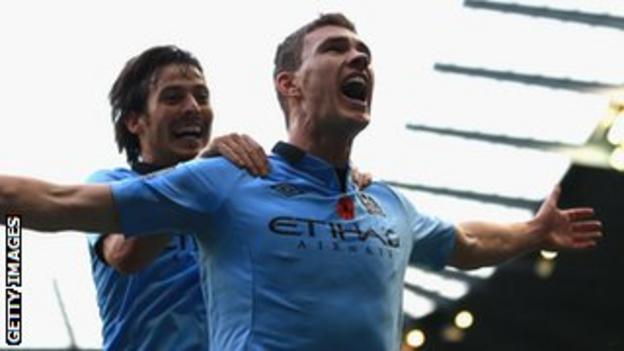 It was a big lift and it is the same for City with Dzeko and Manchester United with Javier Hernandez.
I am not comparing Derbyshire to those two players in terms of their ability, just in the way that by offering something different to the people they replace, they always seem to make an impact.
Derbyshire had Craig Bellamy, Roque Santa Cruz and Benni McCarthy ahead of him so he knew that as a young lad he would not get the opportunity to start many games and he had to take his chance when he came on.
But he did not have the same effect when he started games for Rovers and, similarly, it will be tricky for Hernandez or Dzeko to displace Wayne Rooney and Robin van Persie or Carlos Tevez and Sergio Aguero in their respective starting line-ups.
That is why it is difficult to lose the tag of 'super sub'.
You cannot see either Dzeko or Hernandez getting a run of five or six starts to build their confidence because of the other players their clubs have available in their positions and their reputation of changing games from the bench counts against them because their manager knows that it works.
MORE TO COME FROM MANCINI AND CITY
The worrying thing for the rest of the Premier League is that City have not really got going yet, and they are still unbeaten and have the meanest defence in the top flight.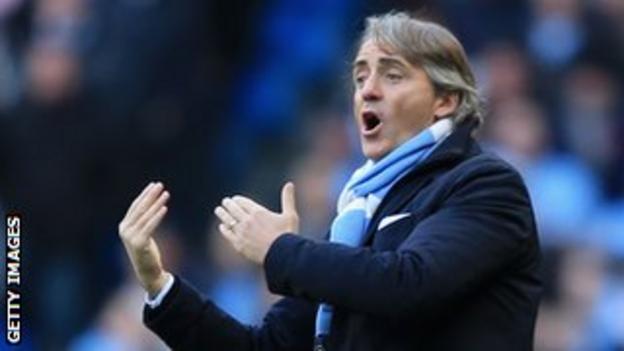 For me, the most dangerous they have looked in any game so far this season is in the second half against Spurs when they had changed to a 3-5-2.
I do not think Mancini is going to suddenly start with that formation in every game, or even change to it mid-match, but it was the first sign that he is succeeding in terms of where he wants to take City.
For most of the campaign so far, they have had very little momentum but I think the players will take a lot of heart from that result and how they got it, and their manager will too. Imagine what they will be playing like when they find some real form.