Hibernian boss Pat Fenlon relaxed over Leigh Griffiths fitness
Last updated on .From the section Football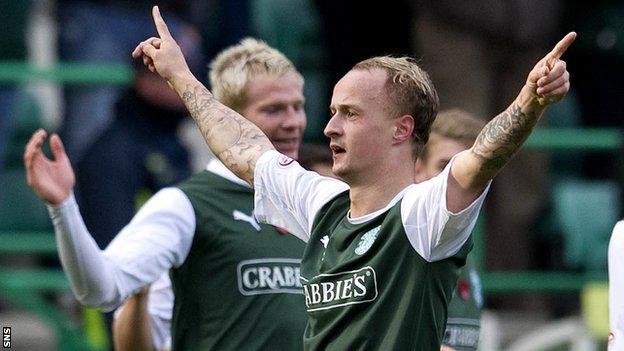 Hibernian manager Pat Fenlon has no fears over the fitness of striker Leigh Griffiths despite taking him off midway through their victory over Dundee Utd.
The 2-1 win moved Hibs to the top of the Scottish Premier League table.
However, Griffiths was substituted midway through the second half, a move Fenlon insisted was precautionary.
"He's been struggling for the last week or two both with his ankle and his knee on his left side, he should be okay for next week to be honest," he said.
"He just felt a little bit sore today so we took him out."
Fenlon also insisted the club were doing their utmost to sign the talismanic player, who scored his 12th goal of the season against United, on a longer deal when his loan deal from Wolves expires in January.
"We're working really hard to do that," he said.
"Leigh wants to stay to the end of the season and it's important that we get that done.
"We're confident we can get him to the end of the season. After that, I'm not sure, but I'm confident we can hang on to him till then.
"He's playing really well for us and working hard for the team and we want to keep him."
For the Irish manager, however, it was a moment of delight as his side moved up to first place in the league table.
"We're delighted. It's two or three times now we've been in that position so it's fantastic and it's great credit to the players to get themselves in that position."
Fenlon also felt that Hibs were starting to develop a winning habit.
"It was a point we spoke about at the start of the season to make sure this place becomes difficult for teams like it used to be.
"Over the last couple of seasons it hasn't been hard enough for teams to come here and we want to make sure that if they get anything out of here they work really hard for it."
However, the Hibs boss was critical of the goal his side conceded to United; the result of a mix-up between defender Pat Fenlon and keeper Ben Williams.
"We didn't make them work for the goal, we gifted a goal.
"If we can cut out those mistakes, because a lot of the goals we're conceding are similar to that.
"We've got to get our concentration levels a bit better in dealing with things like that obviously."