Adebayo Akinfenwa praised by Aidy Boothroyd after hat-trick
Last updated on .From the section Football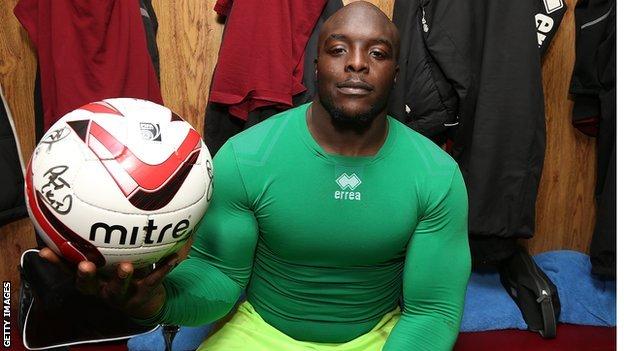 Northampton Town manager Aidy Boothroyd praised striker Adebayo Akinfenwa after the first hat-trick of his career in the 4-2 win over Accrington Stanley.
The 30-year-old has scored 107 Football League goals in his career, but had never hit three in a game before.
Boothroyd told BBC Radio Northampton: "I think Bayo is a fantastic player, he's better than League Two but I think that about a lot of our players.
"He seems to be thriving at the moment."
The Cobblers boss, who was appointed a year ago, added: "When we arrived, I thought he had lost a little bit of what made him so good. But he's running about, he's proving his worth.
"I won't let him get away with anything. I won't with any of the other players."
And the former Watford, Colchester and Coventry manager has revealed how an innovative approach has helped his side move up to within three points of the play-offs.
"We had a phenomenal amount of points from Tuesday night games but Saturdays we weren't very good," he said.
"I started bringing them in Saturday mornings so they're actually getting almost nine-to-fivers now. Players want to lie in and have a rest but the fact that they've woken up is starting to help us. Bayo likes his lie-ins.
"It's like with my kids, I don't always give them what they want, I give them what they need.
"I always listen to them but, at the end of it, Daddy has to decide."