Referee decisions displease St Johnstone boss Steve Lomas
Last updated on .From the section Football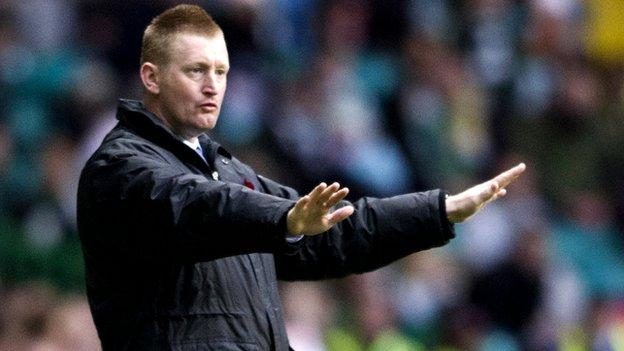 St Johnstone manager Steve Lomas was left unhappy with refereeing decisions despite drawing with Celtic.
But Lomas, who was sent to the stand in the second half, felt some key decisions went against his side.
"I thought we had a stonewall penalty that wasn't given, it's either a bye-kick or it's a penalty, it's not a corner," he told BBC Scotland.
"The lads are absolutely adamant that it was a stonewall penalty."
The Northern Irishman was also unhappy at an incident where Celtic goalscorer Tony Watt came on after receiving treatment off the pitch to directly join an attack.
"The only complaint I have - and the ref's only got an instant to call it - is somebody's receiving treatment on the bye-line, next minute he's running onto a through-ball from off the pitch," Lomas explained.
"That can't be right. I've spoken to [referee] Iain Brines and he's spoken to me about neutral zones and this, that and the other.
"At the end of the day, if someone's off for treatment and next minute he's putting a cross into our box then something's very, very wrong."
However, Lomas admitted that the language he used to the referee could have been to blame for his dismissal.
"It's a passionate game," he said. "I've apologised for my language, but at the end of the day, that could have cost us dearly."
Despite his diagreements with the officials, the Perth boss was full of praise for his team, who lost 5-0 at Celtic Park less than two weeks previously in the Scottish League Cup.
"I didn't think Celtic made too many chances, and I thought our team was magnificent," said Lomas.
"We took a right pasting here 10 days ago and nobody gave us a chance, and our lads have come out here and restricted Celtic to very few chances - a team that beat Barcelona. That was brilliant.
"They're an honest lot and they know when they've played bad, and they've bounced back in spectacular fashion."
And the Saints boss was also quick to praise the contribution of goalscorer Nigel Hasselbaink.
"You've got to remember, he's only 21," the manager added. "He's still a young boy.
"He's still developing, but you've seen tonight it's a good finish.
"We've looked at his work-rate off the ball, we've asked him questions that he has to do it without the ball and he did that manfully."