Wilfried Zaha: To Manchester United from Ivory Coast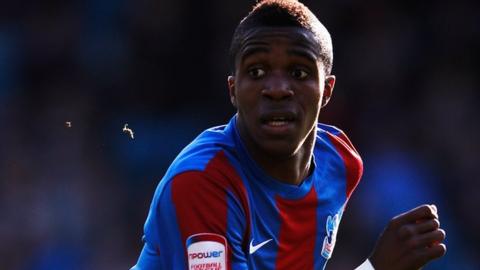 From a skinny, young kid growing up away from his homeland to joining one of the world's biggest clubs, Wilfried Zaha has been on a remarkable journey.
The 20-year-old Crystal Palace winger, who has eight siblings, arrived with his family from the Ivory Coast aged just four.
Now Zaha, two months after making his full England debut, is set for a summer move to Manchester United.
BBC Sport talked to a schoolteacher, a club mentor, a chairman and an ex-manager to chart his progress.
Coach at school
Aaron Smith, Zaha's primary school football coach, said he stood out even when he first met him at the age of eight.
"There was nothing of him. He was very lean, but he had immense strength in holding the ball," said Smith, a coach at Whitehorse Manor School in Croydon.
"He had something that you just can't teach, a natural raw talent - his ability to take players on was unquestionable. He used to play central midfield and ran the show.
"I'm just very, very proud of him. He's still friends with the people he's known since he was a young boy. He's a lovable boy who's polite with good manners.
"Croydon's not an easy area - there were riots not long ago - and it's good to see someone who wants to work extremely hard getting on. Wilfried's not been born with everything on his plate but always wanted to be the best."
Academy boss
After joining Crystal Palace's football academy at the age of 12, Zaha has been carefully nurtured, the club keen to make the most of his pace, strength, versatility and exceptional ball control.
"Wilf was quite unassuming and a bit introverted when he came to us. We've had to be patient as he was a late developer physically," said Gary Issott, the academy's director.
"He's now an immense physical specimen. He's got fantastic feet in tight situations, he can sprint and can draw two or three defenders to him, then go beyond them.
"He's quite unique in that that he's got a terrific work ethic and can pick up the ball from deep positions, can play left side or right side and is comfortable in the middle."
Palace are much admired for developing young talent, with players like Wayne Routledge, Victor Moses and Ben Watson all going on to Premier League clubs. "We like to get them mixing with the older players. That's how they learn," added Issott.
Club co-chairman
Stephen Browett, one of four co-chairmen at Palace, believes clubs outside the top flight can offer players like Zaha the perfect platform to mature.
"It's been a great journey. He's just turned 20 but he's played around 100 times which is an advantage for a promising footballer," said Browett, who helped lead a fans' consortium which took over the club in 2010.
"He's got lots of experience of playing in front of big crowds and against men rather than boys.
"He's not the finished article yet. He is a work in progress, but his ball control is incredible. It's like the ball is glued to his feet sometimes. He can really mesmerise a full-back and skip past them."
It is little wonder then that the Ivory Coast have been courting him, with their captain, Didier Drogba, unsuccessfully trying to recruit him for the country of his birth in the Africa Cup of Nations in January.
Zaha could still represent Ivory Coast even though he played against Sweden in a friendly in November and would only be tied to England once he has appeared in a competitive international, such as a World Cup qualifier.
Former manager
Paul Hart, encouraged by his then assistant Dougie Freedman, gave Zaha his Palace debut when manager in March 2010.
"He was a lovely lad, very quiet but was he was not fazed by it," said Hart, now an academy director at Charlton.
"He was a bit nervous when we brought him onto the bench, but he got a sniff with a 10-minute appearance and it hopefully gave him the appetite for more.
"I saw him at the end of last season and he still looked like a young boy, his body shape and all that, but I saw him play against us at Charlton this season and he has grown into a man. He is strong and powerful and Crystal Palace have reaped the benefits.
"I had him down as a centre-forward when I was there, but he has been playing wide in a 4-3-3 at Crystal Palace and getting in across the line has got him some goals."
Hart says Zaha's progress should be an inspiration to other youngsters.
"It is a massive boost for other players in the Championship," he said. "I am very pleased and proud of some of the boys I have here and I am hoping they are going to go on and emulate Wilfried."