Richie Wellens: Ipswich Town wait on Leicester City loan decision
Last updated on .From the section Football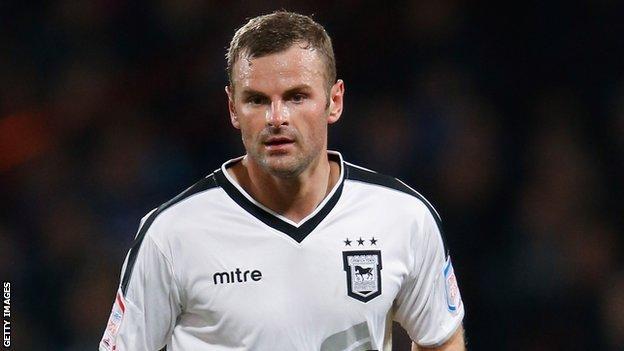 Ipswich Town boss Mick McCarthy has said the decision on whether Richie Wellens re-joins on loan lies with Leicester City manager Nigel Pearson.
Wellens, 32, has returned to the Foxes - Ipswich's next opponents - after a one-month spell at Portman Road.
"I spoke to Nigel on Friday. He wanted to see how their result went and he hasn't got a big squad," McCarthy told BBC Radio Suffolk.
"We're beholden to Leicester - he's their player."
He added: "It's up in the air at the moment. We can do it next week if we feel we should and if they want to do it."
Midfielder Wellens has impressed in his seven games since arriving in early October, despite Ipswich's struggle at the bottom end of the Championship and the departure of boss Paul Jewell.
But, after featuring in he could line up against his former club seven days later, should Pearson decide to keep hold of the former Doncaster and Oldham player.
The victory over Burnley lifted Ipswich to 22nd in the table and means McCarthy has picked up six points from his three games in charge since replacing Jewell.
"It was a good day but - and I don't want to be the prophet of doom - we could be up and down in that bottom three for a while because of the nature of the league and anybody can beat anybody," said a cautious McCarthy after the game.
"We've started a good run and let's see if we can continue it. If we can get Portman Road rocking then fabulous.
"But let's make sure we are in this league at the end of the season by playing as tough and determined as that."