QPR: Give Mark Hughes until Christmas - Matt Jansen
By Mandeep Sanghera
BBC Sport
Last updated on .From the section Football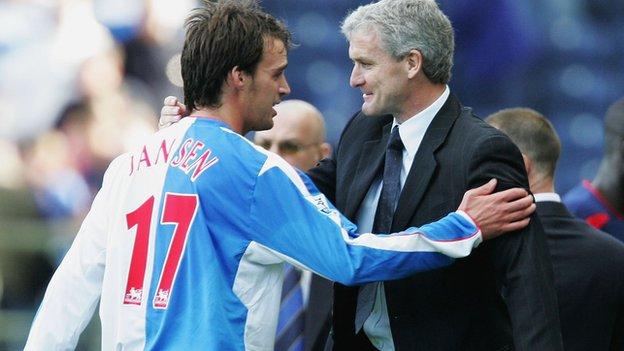 Under-pressure QPR manager Mark Hughes should be given until Christmas to turn the club's fortunes around, according to his former player Matt Jansen.
The Loftus Road club are at the foot of the Premier League and host second-from-bottom Southampton on Saturday.
"A new manager would want the January transfer window to go at," said Jansen, who played with and under Hughes at Blackburn Rovers.
"If they gave him until Christmas that would be fair."
He added: "They do need to give him time and, hopefully, he will turn it around.
"QPR haven't got that first win yet. I thought the game against Reading a couple of weeks ago was the one that they had to win. Southampton is now the game that they have got to win."
Hughes played for Blackburn between 2000 and 2002, while also managing the Ewood Park club from 2004 to 2008 when he led them to sixth- and seventh-place top-flight finishes during his tenure.
Jansen, who is currently a player-coach at Chorley, was with Rovers from 1999 to 2006 and believes Hughes and his management team will eventually get things right at the Loftus Road club.
"I know they don't give managers time these days but they have given him time so far and they'll continue to do so because I think he has a good team around him with Mark Bowen and Eddie Niedzwiecki," said Jansen.
"He's done well where he has been before. I think he'll come good."
Jansen believes one of the problems Hughes has had is the massive overhaul of the squad he initiated after QPR narrowly avoided relegation last season.
"In a settled side he has only got to get rid of two or three players and bring in two or three, whereas at QPR he has revamped the squad and they are new to playing with each other," added Jansen.
"He's got rid of a lot of players and maybe still has to move some on which can unsettle teams when there are still players in there who you are looking offload.
"It's a completely new team and that does take time."