Bristol City's Derek McInnes not under pressure, says Lansdown
Last updated on .From the section Football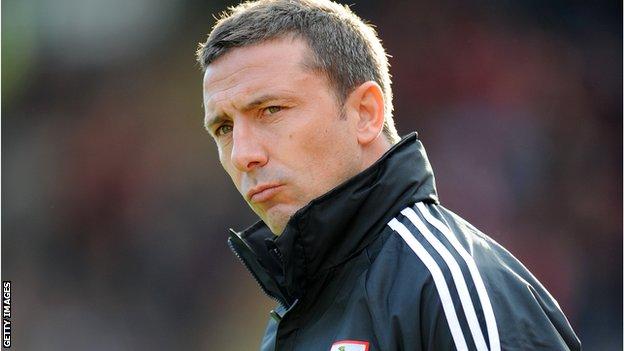 Bristol City's majority shareholder Steve Lansdown has insisted manager Derek McInnes has the backing of the club's board.
The result kept McInnes' side at the foot of the Championship table, four points from safety.
"Derek is not under pressure from the board at all," former chairman Lansdown told BBC Radio Bristol.
He continued: "Where the pressure comes from is from these sort of conversations and from the fans, which is understandable.
"We have a responsibility to perform for our supporters and we're not doing that at the moment.
"All I'll ask is for the supporters to stand by us; nobody wants to be in this position and we didn't anticipate it.
"But we are, and we'll fight to get out of it. I think my record of supporting the managers of this football club is sound and I don't see that changing."
Ex-St Johnstone boss McInnes replaced Keith Millen at Ashton Gate in October 2011 and they narrowly avoided relegation last season.
The Scotsman has found himself under scrutiny this term after securing only three wins so far during the current campaign.
But Lansdown added: "I feel very confident about everyone in the club and a lot of things are going in the right direction.
"I've never given a vote of confidence to a manager in my whole life and I don't intend to start doing so now.
"Derek is the manager and that is the end of it. I think he's a good manager, a good person and a good employee of the club."
City's last seven-match losing run came under Gary Johnson's rule in 2005, and it left them rooted to the bottom of League One.
But Johnson, who now manages Yeovil Town, led them to the Championship the following season and the play-off finals in 2008.
When asked about the pressures of managing struggling teams, Johnson told BBC Somerset: "You have to survive and keep doing the things you think are going to help.
"We are all under pressure. You can be second and people want you to be first.
"People always like to say that a manager has lost the dressing room when there's a few bad results. When I was at Bristol City that was a common theme.
"There's a million people out there who think they can do a much better job.
"You have to deal with it and keep the belief, as long as you believe you're doing it right."