Old Firm second sides would play in three-tier system - SFL

By Brian McLauchlin
BBC Scotland
Last updated on .From the section Football243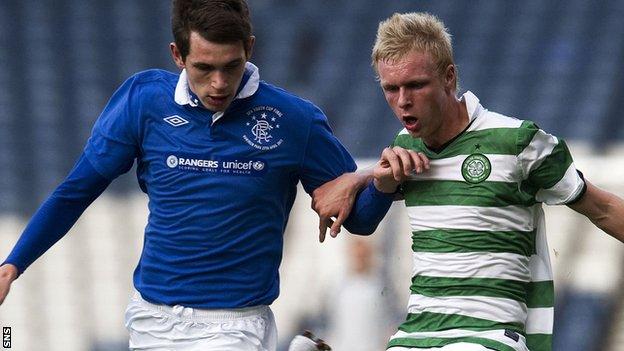 Second sides from Celtic and Rangers playing in senior football forms part of a proposal to reorganise the Scottish game from season 2015-16.
The plan from the Scottish Football League, to be discussed by its clubs on Wednesday, would result in the end of the Scottish Premier League.
Instead, the present four tiers would be reorganised into three leagues of 16, 10 and 18 teams.
But there is no indication that any top-tier clubs would be in favour.
Any change in the structure of the SPL would require an 11-1 majority in favour, but two SPL powerbrokers have told BBC Scotland that it would not garner sufficient support.
The proposal comes from SFL chief executive David Longmuir, who will hand in a letter to the Scottish Football Association and the SPL.
His idea of colt teams is similar to the system used in Spain, where clubs like Barcelona and Real Madrid have second sides who are unable to win promotion to the same level as the senior side.
There is likely to be opposition to restricting this opportunity to the two Glasgow giants, with clubs like Hearts and Hibs also known to be interested.
However, Paul Hartley, now managing Second Division side Alloa Athletic, would like to see some kind of reorganisation.
"I think we have the smallest amount of teams in Europe in our top division and I think something needs to change," the former Scotland, Celtic, Hearts, Hibernian, St Johnstone, Hamilton Accies, Raith Rovers and Aberdeen midfielder told BBC Scotland.
"But we're talking about 2015-16. We could have more clubs going to the wall by then.
"I think we have to do it sooner rather than later. Let's get round the table for the sake of the game and make it better."
Rangers are presently playing in Division Three following financial problems but are expected to have achieved at least one promotion by the time the proposals would come into play.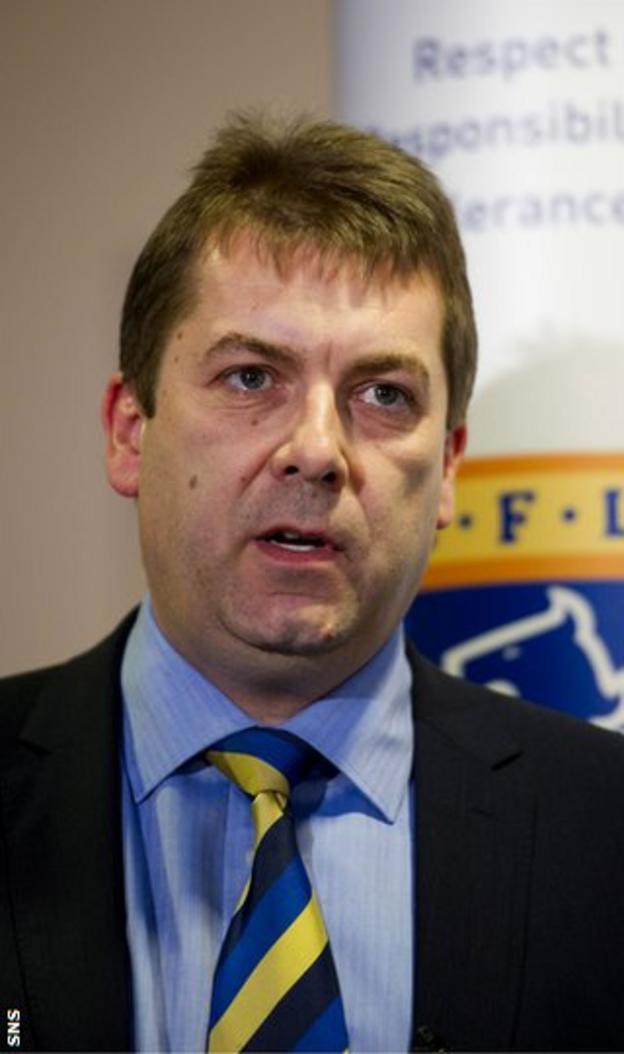 Charles Green has previously said that Rangers will not play again in the SPL while he is the Ibrox club's chief executive.
Now he has told Talksport: "I understand that the Football League on Wednesday are having a meeting of clubs and it's the intention of the executive to unveil what they think would be a restructuring plan for Scottish football.
"I won't be there unfortunately because we are doing the presentations in London, but one of the other directors and the club's secretary will be there, so we will find out what the SFL plan is."
Green's consortium purchased the business and assets of Rangers when they were consigned to liquidation in the summer and the club was subsequently re-launched in the Third Division.
Hearts are the latest SPL club to experience financial turmoil and are battling for survival after Her Majesty's Revenue and Customs issued a winding-up order over a tax bill of almost £450,000.
"Hearts have got into financial difficulty and there were rumours in the papers that there were another couple of SPL clubs in financial difficulty, so it is a time for change," said Green.
"Whether the SPL could survive if two clubs go out of business would be really questionable.
"We are just focusing on winning the Third Division and getting promotion.
"We are a football club, we just win matches and, if you keep winning games, you will end up at the top.
"What the top will be called in three years, who knows?
"If it happens beforehand because of restructuring, or because clubs go out of business, that's unfortunate, but we had to get on with our lives and other clubs will have to do the same."