Andy Legg blames chairman for Llanelli departure
Last updated on .From the section Football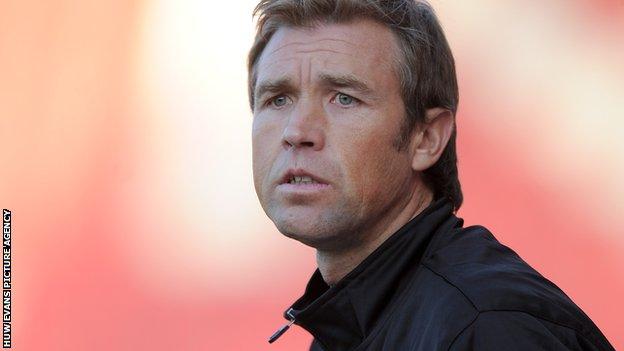 Former Wales defender Andy Legg says he quit as manager of Llanelli football club because he felt let down.
The financially struggling Welsh Premier League club are the subject of a transfer embargo and face a winding up order at the High Court.
Legg said chairman Nitin Parekh failed to deliver on his assurances.
"We were let down again and it was the final straw for me. I've been dealing with off-the-field issues more than football issues," said Legg.
Llanelli, who have been asked to respond, have been barred from signing any players because of money owed to former players.
The club are also due in the High Court on 19 November to face a winding up petition by HM Revenue and Customs.
They survived a winding up order over tax debts in September, and a number of current players are owed wages.
"I drove to Oxford last week for a meeting with [Parekh]. We were given assurances and they never came," Legg told Radio Wales.
In a further development, the Football Association of Wales is withholding money earned by the club for representing Wales in the Europa League until they receive assurances that players owed money will be given priority.
Welsh Premier League secretary Gwyn Derfel told Radio Wales: "Llanelli are still owed some European money.
"That money has arrived with the FAW in the last couple of days... what we've said to the chairman is we'd like past and present players to be treated as preferential creditors and we've said we won't release the money until we get certain assurances from the chairman about that.
"Now once we release that money we've got no right to demand what happens but we can certainly make strong suggestions about where the money should go."