No complacency at Celtic, says defender Kelvin Wilson
Last updated on .From the section Football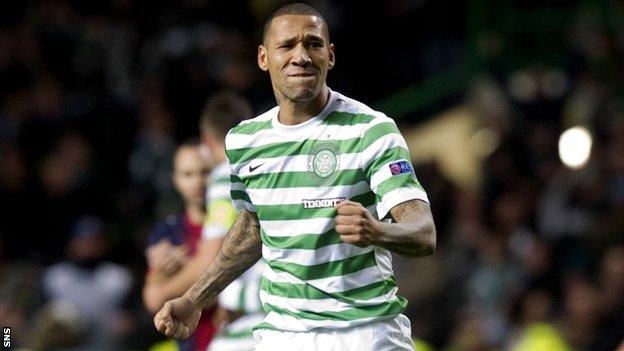 Kelvin Wilson says Champions League demands rather than complacency have bedevilled Celtic's Scottish Premier League campaign.
After means the reigning champions have two points from the last nine and are two behind leaders Hibernian.
"Obviously it is a massive factor," Wilson said of the Champions League.
"With the amount of games we've had, it's tiring, but we need to get on with it."
Celtic are also only a point above Aberdeen, although they do have a game in hand over their rivals at the top of the table.
The draw at home to Saints came four days after Celtic's historic 2-1 win over Barcelona, with .
However, Wilson pointed out that they could not be disrespectful to the other teams in the SPL.
"Of course there's a challenge from other teams," he said.
"We didn't think we were going to walk away with the league.
"It's disappointing not to be at the top of the league. It's tight up there, but we're confident we can do a job and get there in the end.
"Everyone talks about Rangers not being in the league but whether they were here or not, we want to be in the Champions League.
"We'll take the league as seriously as the Champions League, there's no doubt about that."
Lennon insisted his side would come good in the SPL after the New Year, when their hectic schedule would cease, but Wilson still thinks they ought to be performing better.
"We've got players who are good enough to come in and do a job, so there's no point feeling sorry for ourselves," added the Englishman. "We can't use it as an excuse.
"It's not a case of raising ourselves. This is our job and we've just got to do it.
"There shouldn't be any excuses, we should be able to deal with these sorts of games."