Wales thrashing in Serbia a turning point says Kit Symons
Last updated on .From the section Football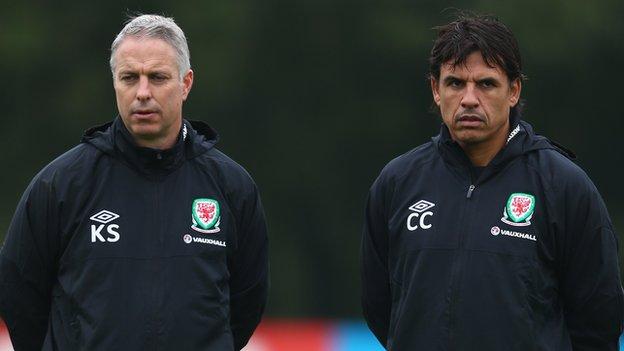 Wales assistant manager Kit Symons says the team's in September will prove to be a blessing in terms of their development.
The World Cup 2014 qualifying thrashing was Wales's worst since the 7-1 loss against Holland in 1996.
Wales have won only one of their four group matches, but Symons says they are progressing under manager Chris Coleman.
"In some ways that [Serbia match] was almost a turning point," he said.
"That was the stage when Chris [Coleman] decided, 'right I'm just going to do things exactly how I want to do them now'.
"So longer term that might not have been the worst thing that could have happened in some ways."
Coleman, appointed in January, saw his team bounce back from the hammering in Novi Sad to beat Scotland 2-1 in Cardiff, though that was followed by a 2-0 loss in Croatia to leave the Welsh second from bottom in Group A.
The squad meets for a brief get-together on Tuesday while other countries, including next group opponents Scotland, play friendly internationals.
"We sort of looked at it and for a few different reasons decided not to take on a match," said Symons.
"[The get-together] is just to keep the players involved and ticking over and keep that togetherness within the group which has been pretty good so far."
The former Wales international defender said he was confident the majority of the Wales squad would attend the gathering, though he accepted not everyone would turn up.
"It's still going to be a decent turn out we think," he said.
"Even if you've got a game you're going to expect a few people to be pulling out. If we can get a good percentage of the squad there it will be very worthwhile still and beneficial.
"We know it's a tough group and we know it's been a difficult situation. But, you know, we want to move on and try and progress and finish as strongly as we can in this group now."
Wales' next match is a friendly with Austria in Swansea on 6 February, followed by a qualifying double-header away to Scotland and home to Croatia in March.